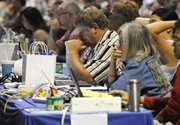 Minneapolis — Presbyterian leaders were split Thursday on two gay-friendly measures, voting to allow noncelibate gays in committed relationships to serve as clergy but deciding not to redefine marriage in their church constitution to include same-sex couples — at least for now.
The surprise vote to shelve the marriage issue at the church's general assembly in Minneapolis late Thursday passed by a slim margin of 51 percent. The decision means the church will continue to define marriage as being between "a man and a woman" for at least two more years — unless supporters of the proposal can muster enough votes to debate the issue again today.
Earlier Thursday, 53 percent of delegates approved the more liberal policy on gay clergy.
But even that vote isn't a final stamp of approval for the Presbyterian Church (U.S.A.) or its more than 2 million members.
Such changes must be approved by a majority of the church's 173 U.S. presbyteries before they can take effect. Two years ago, the assembly voted to liberalize the gay clergy policy — but it died last year when 94 of the presbyteries voted against it.
Under current church policy, Presbyterians are only eligible to become clergy, deacons or elders if they are married or celibate.
The new policy would strike references to sexuality altogether in favor of candidates committed to "joyful submission to worship of Christ."
"What this is about is making sure we uphold what Christ taught us, to not judge one another," said Dan Roth, a church elder from Sacramento. "We will no longer have to tell our brothers and sisters in Christ that they lie about who they are."
But critics said the move toward more liberal policy would simply create disputes and bad feelings in Presbyterian churches nationwide.
"If we are once again conflicted with this question in our presbyteries, all the air will be sucked out of the room," said the Rev. William Reid Dalton III of Burlington, N.C. "All the other things, the important issues we need to consider will not considered."
Presbyterian Church (U.S.A.) is ranked the 10th-largest church in the U.S. with 2.8 million members, according to the National Council of Churches' 2010 "Yearbook of American and Canadian Churches." The church's media materials tout 2.1 million members.
Several major Christian denominations have voted in recent years to allow noncelibate gays to serve as clergy if they are in committed relationships. Among them are the Evangelical Lutheran Church in America, the U.S. Episcopal Church and the United Church of Christ.
Benjamin Wind, a nonvoting young adult delegate to the assembly from Syracuse, N.Y., said Presbyterians of his generation greatly favor the change.
"The world has become a more tolerant and accepting place," Wind said. "I've grown up with gay and lesbian friends, teachers, even spiritual leaders. They stand proud as people who deserve the same rights as all human beings."
Leaders of the Presbyterian Renewal Network, a conservative group within the church, said allowing noncelibate gay people to serve as clergy would amount to "removing the moral standard for our ministers."
Other delegates warned that liberalizing such policies would put the Presbyterian church in opposition to its cohorts in other parts of the world, where the denomination is seeing much of its new growth. Delegates also are considering removing the threat of punishment for clergy who perform same-sex marriages in states where it's legal.
"I fear for the partnerships we have built around the globe," said the Rev. D. Matthew Stith, pastor of Community Presbyterian Church in West Fargo, N.D.
Copyright 2018 The Associated Press. All rights reserved. This material may not be published, broadcast, rewritten or redistributed. We strive to uphold our values for every story published.