Los Angeles — Old-fashioned undercover work and a slice of pizza delivered the key genetic evidence that helped police nab the man wanted in the decades-long "Grim Sleeper" serial killings case as they put to use a provocative new DNA technique.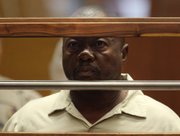 Law enforcement officials on Thursday described how they used "familial DNA" searching to bring about the arrest of Lonnie Franklin Jr., on 10 counts of murder and other charges in killings between 1985 and 2007.
Police hailed the arrest as an end to a quarter-century reign of terror on the streets of Los Angeles. The killer earned the "Grim Sleeper" nickname after taking a 14-year hiatus between slayings and re-emerging in 2002 to take three more victims.
In the end, it was a meal at a Los Angeles restaurant that tripped up Franklin.
An undercover officer pretending to be a waiter collected tableware, napkins, glasses and pizza crust at a restaurant where the suspect ate in recent days, allowing detectives to obtain a DNA match.
The trail began to heat up when the DNA of Franklin's son was entered in a state database after he was convicted in a weapons case, authorities said. The son's DNA was similar to genetic material found on the victims, and authorities soon began following around Franklin to get his DNA and see if he was the suspected killer.
California Attorney General Jerry Brown said it marked the first time in the nation that familial DNA had been used to break a case of such magnitude. He expects legal challenges but believes the case will hold up to the scrutiny.
Police Chief Charlie Beck said the case will be groundbreaking.
"This will change the way policing is done in the United States," he said.
Franklin made a first court appearance Thursday on the murder counts as well as one count of attempted murder and special-circumstance allegations of multiple murder that could lead to the death penalty or life in prison without possibility of parole.
His arraignment was postponed until Aug. 9 at the request of his defense attorney, Regina Laughney, who declined to comment on the case.
Authorities say they may never know why the killings stopped for 14 years, but Detective Dennis Kilcoyne said the sole surviving victim led police to a house three doors down from the suspect's lime-green home in 1988 and detectives did an extensive investigation there. The next killing did not surface until 2002.
"Either he became more careful, or he stopped his behavior," Beck said, adding that investigators have not ruled out belatedly discovering more cases in that 14-year window.
Investigators have honed in on about a dozen unsolved cases to further review in light of Franklin's arrest, Kilcoyne said.
Details of what led to the arrest emerged as the father of one victim admitted he had believed police had given up.
"It shows today that the long arm of the law still prevailed," said Porter Alexander, father of victim Monique Alexander.
Advocates of familial searches believe they will solve many more crimes in which there is DNA evidence. Others worry that it creates the potential for guilt by association: A person could come under suspicion simply if a family member's DNA is in a criminal database.
Brown said that despite some constitutional concerns, he approved in 2008 testing of DNA already stored in the state's database for partial, or familial, matches to genetic material taken from a crime scene. His forensic staff then developed unique software that enabled them to determine a suspect.
He acknowledged privacy concerns about the burgeoning use of DNA in criminal investigations but stressed that in the "Grim Sleeper" case, only DNA from convicted felons was used in the searches.
Brown said that since his authorization in 2008 the Department of Justice has run 10 familial searches in California's database and this is the first time it led to an arrest.
Based on the DNA found on Franklin's son, the suspect had to be a father or brother, Brown said.
Brown said his department did its own investigation to determine that a birth certificate showed the son was Franklin's, that there was no brother and that victims in the case had been found in the vicinity of Franklin's residence.
Copyright 2018 The Associated Press. All rights reserved. This material may not be published, broadcast, rewritten or redistributed. We strive to uphold our values for every story published.