New York — The East Coast roasted under an unrelenting sun Tuesday as record-setting temperatures soared past 100 from Virginia to Massachusetts, utility companies cranked up power to the limit to cool the sweating masses and railroad tracks were so hot commuter trains had to slow down.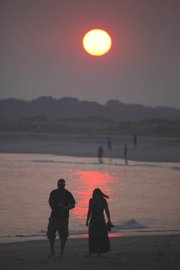 "It's brutal," said construction worker Pat McHugh, 49, his face shiny with sweat, as he took a break in New York City. "Worst heat on the job in 10 years."
The temperature broke records for the day in New York, where it hit 103, and in Philadelphia, where it reached 102.
It was also over 100 in cities from Richmond, Va., to Boston, and Providence, R.I., and Hartford, Conn., also set records.
"It's safe to say this is one of the hottest days in about a decade for many locations in the Northeast and even inland," said Sean Potter of the National Weather Service. "You'd go back to 2001 or maybe 1999 to find a similar heat wave."
With people cranking up the air conditioning, energy officials said there was tremendous demand for electricity, but the grid didn't buckle.
Few power problems were reported and the operators of the regional electrical systems that serve the Mid-Atlantic, New England and New York said they had ample capacity. Usage appeared to be falling just short of records set throughout the Northeast during a major heat wave in 2006.
Still, it was oppressive.
On the baking streets of the Bronx, 14-year-old Miguel Pena and 13-year-old Vincent Quiles walked their bicycles up a steep hill, white handkerchiefs around their heads to keep the sweat from their eyes.
"Man, this stinks," Miguel said. "We just got out of school and this is supposed to be when we have fun, but this is too much. We thought it would be cooler on the bike, but now we're going home. It's just too hot."
"You can't breathe out here," Vincent added.
In downtown Philadelphia, pedestrians and drivers appeared to move a little more slowly in the heat, which combined high humidity with clear sunny skies that made sidewalks hot and asphalt sticky.
"Hydrate," President Barack Obama reminded a group of reporters as they left the Oval Office at the White House.
Meteorologists in some places began calling the hot stretch a heat wave, a phenomenon defined in the Northeast as three consecutive days of temperatures of 90 or above. New Jersey's largest city, Newark, handily beat that threshold, hitting 100 for the third day in a row. Temperatures in the Mid-Atlantic region are expected to be in the high 90s to 100 again on Wednesday.
It was so hot that even machines had to slow down. Transportation officials cut the speed of commuter trains in suburban Washington when the tracks got too hot. Extreme heat can cause welded rails to bend under pressure.
Workers at the Marine Mammal Stranding Center in Brigantine, N.J., used tubs of ice cubes to help four sick or weakened seals keep cool.
It wasn't much easier on animal lovers. In Massachusetts, Katie Wright was determined to follow through on her promise to take her children to a zoo.
"It's pretty ridiculous," Wright said as her 3-year-old son Jackson and 2-year-old daughter Emery watched owls and hawks at the Massachusetts Audubon's Drumlin Farm Wildlife Sanctuary in Lincoln. "But we wanted to get out, so we brought hats, sunscreen, extra water and then promised the kids lunch at an air-conditioned restaurant."
Copyright 2018 The Associated Press. All rights reserved. This material may not be published, broadcast, rewritten or redistributed. We strive to uphold our values for every story published.