New York — Children often ask the question "Who am I?" as they come of age, but that's nothing like the identity crisis now confronting the sons and daughters of four couples accused of spying for Russia.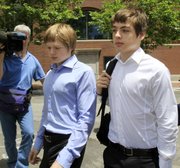 Over a turbulent week, at least some, and maybe all, have discovered that mom and dad are not who they said they were. The children's citizenship, family history, and even their very names have been called into question.
At least two children involved in the case, ages 1 and 3, will soon be headed for Russia.
Of the 11 people charged this week with being members of a Russian spy ring, eight were parents. Collectively, they are believed to have eight children, although, like much else associated with this strange post-Cold War spying case, the true facts are hazy.
Some of the older children are likely already wrestling with questions about their identities.
Juan Lazaro Jr., a gifted 17-year-old pianist at New York's LaGuardia High School of the performing arts, was named after his father. But the FBI said this week that dad's name was fake, as was his claim to have been raised in South America.
Tim Foley, a 20-year-old student at George Washington University, wrote on a blog that he was born in Toronto and grew up in Paris and Boston. Now his true birth country has been called into question. Prosecutors say they have evidence the family is actually Russian.
Two girls growing up in suburban Montclair, N.J., ages 7 and 11, were given the last name Murphy, but prosecutors said that was a lie, too.
"While the FBI has spent years conducting extensive electronic and physical surveillance of the people who call themselves the Murphys, there is no indication that the Murphys' children have any inkling that their parents are, in truth and in fact, Russian secret agents," Assistant U.S. Attorney Michael Farbiarz wrote in a court filing Thursday. Their parents went by the names Cynthia and Richard Murphy.
The future of those children, at least the youngest ones, is now in question.
Who will take care of them if their parents remain in prison? Do they have extended families in Russia they have never met? Are they all American citizens?
U.S. immigration officials have declined to comment on the children's status, citing privacy rules, but note that any person born in the United States is a citizen by right, except in certain cases involving the children of diplomats or other foreign government workers.
At least two of the children, the toddler and pre-schooler whose parents posed as American Michael Zottoli and Canadian Patricia Mills, will be going to Russia. Federal prosecutors said Friday the couple acknowledged they are Russian citizens and instructed a family friend now caring for the children to contact relatives in Russia to arrange for the youngsters to go there.
By most accounts, the couples charged in the case appeared to be caring parents. Several raised children who excelled.
Tim Foley wrote in his blog about speaking English, French and German and said he was learning Chinese. He said he was majoring in International Affairs with a concentration in Asian studies, and wrote about his plan to spend a semester in Beijing.
His 16-year-old brother, Alex, attended the International School of Boston, a private high school where some classes are taught in French and the theme is "shaping global citizens."
Reached at home by telephone, the teen politely declined to talk about the case.
Copyright 2018 The Associated Press. All rights reserved. This material may not be published, broadcast, rewritten or redistributed. We strive to uphold our values for every story published.