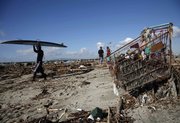 Seal Beach, Calif. — The sky was blue and the sun bright for the first time in days after a week of powerful Southern California rain storms, but all Victoria Macey could see was the mountain of steaming trash and twisted debris on her favorite beach.
"I'm completely shocked. From our house, all we could see was gorgeous clouds and then we come down here and there's so much trash, it's really sad," Macey said as she photographed a sopping plastic baby doll propped atop an overturned end table. "I can't believe how many shopping carts there are. That's what blows my mind."
The mounds of soggy sofa cushions, rusted shopping carts, plastic children's toys, dented refrigerators and hundreds of plastic cans and food wrappers were just one calling card left by a week of punishing rain that pelted Southern California and went on to tangle with Arizona and New Mexico.
About 35 miles to the north of Seal Beach, hundreds of residents who evacuated from wildfire-scarred communities in the San Gabriel Mountain foothills north of Los Angeles returned home Saturday to assess the damage and remove mud and debris from their properties. There were no reports of major damage despite widespread concerns about mudslides and debris flows from the relentless rain.
About half of the 500 residents of a small western Arizona farming community who were evacuated after floodwaters swept through the town Thursday returned Saturday.
Muddied streets and damaged homes and businesses remained, and La Paz County sheriff's spokesman Lt. Glenn Gilbert said the community was in cleanup mode. Many said they were happy to survive the storm.
In Northern California, a rare tornado warning was issued Saturday in the San Francisco Bay area's Contra Costa County after a trained weather spotter reported seeing a funnel cloud. The National Weather Service said the cloud was seen about 9 miles south of Oakley, but it weakened without touching down and the agency's warning expired.
Copyright 2018 The Associated Press. All rights reserved. This material may not be published, broadcast, rewritten or redistributed. We strive to uphold our values for every story published.