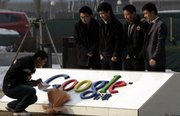 San Francisco — Google has delayed the debut of two mobile phones designed to connect with its Internet services in China, widening the void that might be opened if the company and Beijing can't resolve their rift over online censorship and security.
The phones, made by Motorola and Samsung, use the Android operating system, created by Google to steer people to its search engine and other services. China Unicom Ltd. was supposed to be the carrier.
The postponement Tuesday is the latest aftershock from Google's threat to shut down its services in China, which could cut off the world's most populous country from Google's services through any kind of computer or phone.
Google says it will remain in China only if the government relents on rules requiring the censorship of content the ruling party considers subversive. The ultimatum came last week after Google said it uncovered a computer attack that tried to plunder its software coding and the e-mail accounts of human rights activists protesting Chinese policies.
Putting the sale of the Android-powered phones on hold is a logical extension of Google's threat. It doesn't make sense to sell the device in a market where key services might be restricted or unavailable, said Forrester Research analyst Charles Golvin.
The absence of Google's services might discourage the development of other Android-equipped phones for China's market, limiting customer choices among a breed of mobile devices that are becoming increasingly popular in other parts of the world.
Some Android devices hit the market before Google took its stand on China. For instance, Samsung introduced an Android phone, the Galaxy, in China last year. That phone will remain on sale.
This month Google also began selling its own Android phone, the Nexus One. But that device so far is only available in the United States, United Kingdom, Singapore and Hong Kong. There's no indication when Google might sell it in China or elsewhere.
In a statement, Motorola said it remains committed to bringing "the power and promise" of Android phones to China. The manufacturer last month unveiled two Android devices, the MT710 and XT800, in China.
Messages left for a Samsung spokesman Tuesday weren't immediately returned.
Keeping new Android phones off the China market would hurt Google, too. The company expects Android devices to become one of the main ways people get to Google's search engine, to its e-mail service and to Google-owned YouTube during the next decade.
China is already the world's largest mobile phone market, with more than 700 million accounts, and its rapidly growing economy is providing more people with the means to buy the latest gadgets.
"It's a high-stakes poker game for both sides," said Michael Grossi, director of Altman Vilandrie & Co., a telecommunications consultant.
Copyright 2018 The Associated Press. All rights reserved. This material may not be published, broadcast, rewritten or redistributed. We strive to uphold our values for every story published.