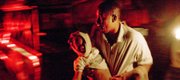 A 7.0 magnitude earthquake occurred 10 miles southwest of Port-au-Prince on Jan. 12, causing widespread devastation in Haiti's capital and throughout the country.
Photo Gallery
Earthquake strikes Haiti
Washington — The Obama administration said Friday it will allow Haitians who were already in the U.S. illegally to remain for the time being because of their country's catastrophic earthquake.
Homeland Security Secretary Janet Napolitano granted the temporary protected status on Friday, two days after she temporarily halted deportations of Haitians, even those already in detention. The protection is only available to Haitians already in the country as of last Tuesday, and allows them to stay and work for 18 months.
Napolitano told reporters that the temporary legal status is an act of compassion.
"It's a horrible thing that has happened to Haiti," the secretary said.
Temporary protected status is granted to foreigners who may not be able to return safely to their country because of a natural disaster, armed conflict or other reasons.
Haitians in the U.S. illegally have pleaded for years for permission to stay, work and send money home — the same treatment the federal government gave Central Americans in 1998 after Hurricane Mitch devastated their region.
About 30,000 Haitians have orders to leave the U.S., according to Department of Homeland Security statistics. Many others are appealing their cases.
The federal government estimates there are about 100,000 to 200,000 Haitians living in the U.S. illegally, Napolitano said.
Copyright 2018 The Associated Press. All rights reserved. This material may not be published, broadcast, rewritten or redistributed. We strive to uphold our values for every story published.