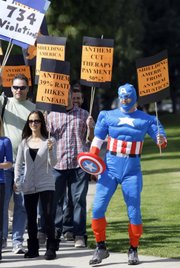 Los Angeles — An executive for the parent company of Anthem Blue Cross told California officials Tuesday that the state's largest health insurer will go forward with much-criticized individual-policy rate increases of as much as 39 percent once a two-month delay lapses May 1.
James Oatman, vice president of WellPoint Inc.'s consumer division, told the state Assembly's health committee that the premium increases, and the profit they generate, are appropriate despite criticism from consumers, regulators, Congress and the Obama administration.
Oatman and Anthem's president, Leslie Margolin, defended Anthem's profit margin during an often-testy hearing, saying it was 2.5 percent to 5 percent, a figure that put it in line with other insurers, they said.
A Los Angeles Times analysis of Anthem's financial reports to regulators showed Anthem has transferred more than $4.2 billion to WellPoint since 2004.
The two executives appeared in Sacramento a day before Angela F. Braly, WellPoint's chief executive, is scheduled to testify before the House Subcommittee on Oversight and Investigations.
Los Angeles-based Anthem has 800,000 customers with individual policies in California.
Copyright 2018 The Lawrence Journal-World. All rights reserved. This material may not be published, broadcast, rewritten or redistributed. We strive to uphold our values for every story published.