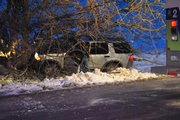 One person was taken by air ambulance to an area hospital Tuesday morning after the person's car struck a tree Tuesday morning.
Emergency crews responded to the scene, just south of K-10 in Eudora, about 6:18 a.m. A white SUV struck a tree head-on near the Eudora Township Fire Department on E. 20th Street, south of the city of Eudora.
Douglas County emergency dispatchers said the patient was in critical condition.
Check back later for updates.
Copyright 2018 The Lawrence Journal-World. All rights reserved. This material may not be published, broadcast, rewritten or redistributed. We strive to uphold our values for every story published.