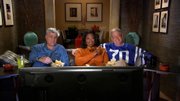 New York — Betty White plays football, babies talk about "milkaholics" and a house made of Bud Light cans falls slowly apart. It must be the Super Bowl — or at least the advertising showcase that entertains amid the gridiron action.
The commercials from such advertisers as Anheuser-Busch and Coca-Cola got off to a funny start Sunday night on CBS.
Villanova marketing Professor Charles R. Taylor said the light-hearted tone is working this year because the ads still manage to tell people what the brands stand for. That marks a turn from last year, when some ads took a more somber tone amid the still-deepening recession.
Not every commercial was strictly humorous. Automaker Toyota aired several ads before and after the game to reassure worried owners after its recalls connected with accelerator problems.
A commercial by conservative Christian group Focus on the Family, perhaps the most-discussed ad leading up to the game, hinted at a serious subject, although it, too, had a punchline. Heisman Trophy winner Tim Tebow and his mother talk about her difficult pregnancy with him — implying an antiabortion message, because she had been advised to have an abortion for medical reasons — but ended with Tebow tackling his mom and saying the family must be "tough."
Taylor said he had been disappointed in at least the past five Super Bowls in terms of the effectiveness of ads in connecting with products, but this year he's pleased. Advertisers pay dearly for the airtime — from $2.5 million to more than $3 million per 30 seconds — and marketers say ads work best when they focus on the product, as well as entertaining.
He cited a commercial by tiremaker Bridgestone featuring men carrying a whale in the back of their truck, and another by Dove launching its new men's skin-care line. They were winners, he said, because they manage to entertain while telling people about the brands. The ad for Dove tells the story of boy growing into a man and the signal events in a man's life.
A first Super Bowl ad by Google — which rarely advertises on television — told an affecting story of a budding relationship through a series of Google searches, beginning with "study abroad" and "how to impress a French woman" and ending with "churches in Paris" and "how to assemble a crib."
That was one of the few strong ads this year, said Laura Ries, president of marketing consulting firm Ries & Ries outside Atlanta.
Other highlights include a series of ads by restaurant chain Denny's, which showed chickens nervous about all the eggs they'd have to lay when the company gives out free Grand Slam breakfasts again this year.
Copyright 2018 The Associated Press. All rights reserved. This material may not be published, broadcast, rewritten or redistributed. We strive to uphold our values for every story published.