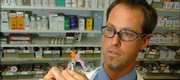 An outbreak of H1N1 Swine Flu was reported in Mexico in April 2009. By the end of May, it had spread across the U.S., with all 50 states reporting cases.
Atlanta — If the U.S. swine flu epidemic isn't over, it certainly looks as if it's on its last legs.
While federal health officials are not ready to declare the threat has passed and the outbreak has run its course, they did report Friday that for the fourth week in a row, no states had widespread flu activity. U.S. cases have been declining since late October.
One U.S. expert said the epidemic has "one foot in the grave," and there are many reasons to believe there won't be another wave later in the year.
For one thing, the virus has shown no signs of mutating. The vaccine against it is effective. And roughly half the people in the U.S. probably have some immunity because they were infected with it or got vaccinated.
The World Health Organization is witnessing an international decline as well, and is discussing criteria for declaring the pandemic over. Britain this week shut down its swine flu hot line, which was set up to diagnose cases and give out Tamiflu.
Copyright 2018 The Associated Press. All rights reserved. This material may not be published, broadcast, rewritten or redistributed. We strive to uphold our values for every story published.