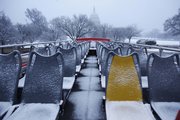 Washington — Life in the nation's capital ground to a halt Friday as steady snow fell, the beginning of a storm that forecasters said could be the biggest for the city in modern history.
A record 2 1/2 feet or more was predicted for Washington. More than 8 inches had already fallen in some D.C. areas by midnight and 10 inches was reported in Pittsburgh as the blizzard blew into the Mid-Atlantic region, reducing visibility. Big amounts of snow were expected throughout the region.
Authorities blamed the storm for hundreds of accidents and the deaths of father-son Samaritans in Virginia.
Several thousand people in West Virginia and Pennsylvania had lost electricity, and more outages were expected. A hospital fire in D.C. sent about three dozen patients scurrying from their rooms to safety in a basement. The blaze started when a snow plow truck caught fire near the building, but no injuries were reported.
The region's second snowstorm in less than two months could be "extremely dangerous," the National Weather Service said. Meteorologist Kevin Whitt in Sterling, Va., said 4 inches had fallen in the Baltimore area and forecasters expect snowfall rates to increase overnight, up to 2 inches per hour, until daybreak.
"Things are fairly manageable, but trees are starting to come down," said D.C. fire department spokesman Pete Piringer.
The heavy, wet snow and strong winds threatened to clog roads and paralyze the region's transportation and retail.
Airlines canceled flights, schools closed and the federal government sent workers home, where they could be stuck for several days in a region ill-equipped to deal with so much snow. Some area hospitals asked people with four-wheel-drive vehicles to volunteer to pick up doctors and nurses to take them to work.
The National Zoo closed early and the Smithsonian museums were to close today. U.S. Park Police spokesman Sgt. David Schlosser said the Lincoln Memorial and other monuments in Washington would remain open as long as conditions allowed.
Gilles Conti scrambled in vain to find a way to get to Los Angeles from Dulles International Airport in suburban Washington, where all flights through this afternoon were canceled.
"I'm just going to wait, I mean, what can I do?" he said. "I'm going to go back to the hotel I was in and I guess I'm going to stay there."
Amtrak stopped most trains heading south from Washington.
Copyright 2018 The Associated Press. All rights reserved. This material may not be published, broadcast, rewritten or redistributed. We strive to uphold our values for every story published.