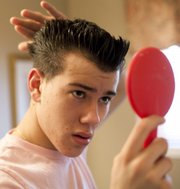 Providence, R.I. — Hair gel and hair extensions, tanning and True Religion jeans, Ed Hardy T-shirts and eyebrow threading. It's fashion, "Jersey Shore"-style.
MTV's hit reality show put the spotlight on the style of a group of 20-something Italian-Americans, self-professed "guidos" and "guidettes," as they partied and fist-pumped their way through a Seaside Heights, N.J., summer. And now their style — heavy on gravity-defying hair and deeply revealing tops — is catching on among a non-"guido" audience that's tuned in not just for the drama, but to study the cast's particular, and sometimes peculiar, fashion choices.
"They're fist-pumping. They're doing their hair like us now, dressing like us," Pauly Delvecchio, who goes by Pauly D on the show, told NBC's "Today" show on Monday. "We obviously did something right."
Pauly D's blowout hairdo helps define the style, along with Nicole "Snooki" Polizzi's white hair-clipped pouf, which has several fan pages on Facebook. Jenni "JWOWW" Farley has announced her own clothing line and Mike "The Situation" Sorrentino walked the red carpet at the Grammys displaying his famous abs.
Zach Vujic, 15, has learned lately just what kind of dedication it takes to get Pauly D's hair. The 10th-grader from Stoney Creek, Ontario, got his own version of the cut, with short hair on bottom, topped by hair a couple of inches long sticking straight up in spikes seemingly shellacked into place.
Pauly D, a DJ from Johnston, R.I., has called the cut windproof, waterproof, soccer-proof and motorcycle-proof. Zach, whose ethnic background is Serbian, says he's watched every episode of the show four times and got the Pauly D cut in late January. Since then, he's been getting up 25 minutes early for school, at 6:25 a.m., so he has time to perfect the style.
It's worth it, Zach said.
"I've noticed now when I go places with the haircut, people just stop and look at me. No one else has it," he said.
Another plus, according to Zach: girls like it.
Other hallmarks of the "Jersey Shore" look are Farley's blonde extensions and boob-revealing tops, T-shirts and trucker hats bearing classic Ed Hardy tattoo designs, and designer sunglasses and bags — sometimes knockoffs.
Most striking perhaps is that the men of "Jersey Shore" appear to be more dedicated to their looks than the women. Pauly D says he spends 25 minutes on his hair every day and gets it cut weekly.
He and Sorrentino dedicate themselves to a daily "GTL" routine: "Gym. Tan. Laundry." so they look their best when they go out.
Copyright 2018 The Associated Press. All rights reserved. This material may not be published, broadcast, rewritten or redistributed. We strive to uphold our values for every story published.