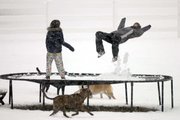 Nashville, Tenn. — A winter storm that brought a rare white Christmas to parts of the South was barreling up the East Coast, with forecasters predicting 6 to 10 inches of snow for Washington and blizzard conditions for New York City and New England.
Airlines canceled hundreds of Sunday flights in the Northeast corridor, with more likely to come as the storm intensifies.
Maryland, Virginia and North Carolina declared states of emergency early this morning or Saturday night. As North Carolina road crews tried to clear snowy and icy highways, Mid-Atlantic officials spent Christmas Day preparing for up to a foot of snow, plunging temperatures and high winds.
"Our concern is tomorrow it's going to get significantly colder," Virginia Gov. Bob McDonnell told The Weather Channel on Saturday evening. "Winds with gusts up to 45 miles per hour will cause blowing snow and that's going to cause the worst of it ... and we're urging extreme caution in travel. Try to get home early and if you don't have to travel don't go."
Continental Airlines canceled 250 Sunday departures from Newark Liberty International Airport outside New York City. United Airlines announced late Saturday that it had canceled dozens of Sunday departures from Newark, Philadelphia, New York's LaGuardia and JFK, Boston and other airports. AirTran also canceled flights, as did Southwest Airlines, mostly in or out of Washington Dulles, Baltimore and Newark.
Southwest spokesman Brad Hawkins said most of the cancellations were for the afternoon, and that flights in New York and Boston would also likely to be affected. More decisions will be made this morning.
Most carriers were waiving fees for one-time changes in affected areas and urging passengers to make changes through their websites.
The monster storm is the result of a low pressure system that will intensify off the North Carolina coast this morning and strengthen into a major storm as it moves northeast, according to the National Weather Service.
A blizzard warning was issued for New York City for today and Monday, with a forecast of 11 to 16 inches of snow and strong winds that will reduce visibility to near zero at times. As much as 18 inches could fall on the New Jersey shore with wind gusts over 40 mph. A blizzard warning was also in effect for Rhode Island and most of eastern Massachusetts including Boston, with forecasters predicting 15 to 20 inches of snow from noon today to 6 p.m. Monday.
Copyright 2018 The Associated Press. All rights reserved. This material may not be published, broadcast, rewritten or redistributed. We strive to uphold our values for every story published.