Time for another edition of First Bell, an early-morning rundown of news and other interesting items involving schools in the area:
The long-awaited Great Portables Exodus is beginning.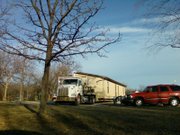 On Friday, the 16-year-old doublewide classroom at Quail Run School had been split in two and hooked up to trucks for hauling to — well, anywhere but another school in the Lawrence school district.
"I'm glad to see it go, to see that portable go," said Tom Bracciano, the district's division director for facilities maintenance. "I don't like 'em."
He's certainly not alone.
Eliminating portables is a top recommendation from members of a subcommittee that studied the physical conditions of district elementary schools as part of the Elementary School Facility Vision Task Force.
The task force is charged with creating a consensus plan for making improvements — both physical and operational — in the years ahead, a plan that members of the Lawrence school board will be able to use as they weigh budget challenges against district needs.
Tom Waechter, chairman of the subcommittee studying physical conditions, considers the elimination of portables among the first orders of business for the district, when it comes to addressing the physical needs of elementary schools. Both fifth-grade classes at Sunset Hill School are in portables, he points out, while students in some other schools never once need to step outside except for recess.
"Equity is going to become a major issue as we delve into the next issues here," Waechter said earlier this month, during a task force meeting.
The district still owns and has 14 portables on school sites, Bracciano said. That's down from a high of more than 30 before a 2005 bond issue added space at the district's secondary schools, allowing many portables to be removed.
"They were in such bad shape that we sold a lot of them for $1, just as long as they moved them away," Bracciano said. "Some we got $100 or $200 for, but a few of them we had to pay to have them demolished."
The district recently sold the Quail Run portable to KanBuild Inc., which actually made the portable and had sold it to the district for $65,000 back in 1994. Now, KanBuild's $5,000 repurchase price will go back into the district's capital outlay budget, to help finance major repairs and other projects.
"It's better than paying $5,000 to tear it down," Bracciano said.
School buildings with portables still on site, according to Bracciano:
• Deerfield, one.
• East Heights, two (school site is used by the Boys & Girls Club).
• Hillcrest, four.
• Lawrence High, one.
• New York, one, although it's officially termed an "annex" because it rests on a foundation. "Everybody calls it a portable."
• Sunflower, one.
• Sunset Hill, two.
• Wakarusa Valley, one.
• Woodlawn, one.
Members of the Elementary School Facility Vision Task Force meet at 7 p.m. at district headquarters, 110 McDonald Drive.
•••
Need some holiday cheer?
Check out the annual Lawrence High School Winter Prelude choral concert, which begins at 7:30 p.m. today in school's auditorium, 1901 La.
There is no charge, and the public is invited to attend and enjoy.
•••
Negotiators for the Lawrence school district and its teachers have been working ahead, as they worked out a tentative agreement for sections of the district's work agreement with employees represented by Lawrence Education Association.
While the work agreement governs this current academic year — and now calls for nearly half of district teachers to receive raises of $250 to $700 for the rest of the year, beginning in March — the main changes are set to take effect for the 2011-12 academic year.
The reason is clear: That's when the district's elementary schools will no longer have any sixth-graders, and the junior highs will be transformed into middle schools: for grades six through eight, instead of the current seven through nine. The district's two high schools will go to four-year institutions, welcoming freshmen onto their campuses.
Without having worked out scheduling changes ahead of time — how much planning time teachers would have, etc. — school and district administrators wouldn't be able to start scheduling classes for next year, said Frank Harwood, the district's chief operations officer.
Now that those issues are settled, negotiators will be able to turn their attention to other matters for the next round of negotiations — and soon. Officials on both sides will be expected to turn in their points for negotiations even before spring arrives.
— Don't hesitate to let me know about school-related matters, at mfagan@ljworld.com.
Copyright 2018 The Lawrence Journal-World. All rights reserved. This material may not be published, broadcast, rewritten or redistributed. We strive to uphold our values for every story published.