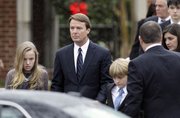 Raleigh, N.C. — Family and friends of Elizabeth Edwards recalled her Saturday as an idealistic law student who challenged professors, a political sage who offered advice at every turn and a matriarch who comforted her family even as she was dying of breast cancer.
Edwards' funeral drew hundreds to Edenton Street United Methodist Church, where she once mourned her 16-year-old son, Wade, after he died in a car crash in 1996. She was to be buried next to him during a private ceremony.
Speakers reflected on a multi-faceted personality: Edwards, 61, was an intellectual who frequented discount clothing stores like T.J. Maxx, she was a fiery competitor, and she was a public figure who won the private confidence of virtually everyone she met.
"There aren't words that are good enough," said daughter Cate Edwards, whose eulogy contained a passage from a letter her mother spent years preparing to leave to her children after she was gone.
"I've loved you in the best ways I've known how," the letter said. "All I ever really needed was you, your love, your presence, to make my life complete."
John Edwards, her estranged husband, did not speak. The couple had four children together. John Edwards sat alongside 28-year-old Cate, 12-year-old Emma Claire and 10-year-old Jack. They held hands as they followed the casket into the sanctuary.
Their oldest daughter talked of how her mother comforted those around her as she lay dying — at one point barely able to speak — while she held her daughter and John's hands, looking back and forth to each, repeating, "I'm OK. I'm OK."
"She was way more worried about us than we were about her," Cate Edwards said.
She talked of her mother's strength and grace and also of her witty advice about everything from clothing (there are always fewer regrets wearing solids than patterns) to marriage (don't settle for the first boy you ever meet).
"She's been a lighthouse to all of us — a point of guidance when we all feel lost," she said.
The memorial brought several political figures, including Sen. John Kerry, who led the Democratic presidential ticket in 2004 that included John Edwards, and North Carolina Gov. Beverly Perdue.
Copyright 2017 The Associated Press. All rights reserved. This material may not be published, broadcast, rewritten or redistributed. We strive to uphold our values for every story published.