Time for another edition of First Bell, an early-morning rundown of news and other interesting items involving schools in the area: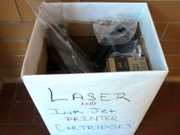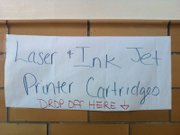 It's not exactly printing money, but the folks at New York School are doing their part to turn discarded printer cartridges into cash.
The school's PTO keeps a box just inside the front doors at New York, 936 N.Y., to collect used cartridges for inkjet and laser printers. Leaders take the cartridges to a local business for recycling, then use the proceeds to purchase calculators, library books or various items of classroom equipment.
The program brings in at least $200 each year, which can buy plenty of much-needed supplies, said Jennifer Brown, a math teacher at New York.
"It has varied from year to year," she said. "It's all good stuff."
Donors include students' parents, other neighborhood residents and area businesses. Some folks at Kansas University also are among the program's "loyal contributors," she said.
•••
Turns out Langston Hughes School's "agreement" to participate in a fund-raising drive for a private "fallen heroes" memorial wasn't an agreement at all.
And now it's off, before it ever could be considered on.
Jackie Mickel, principal at Langston Hughes, said she'd never agreed for the school to take part in the "I Gave 50 Cents" campaign for the U.S. Fallen Heroes Foundation, despite her name and school being hailed by the organization earlier this week as the first school in Kansas to sign on.
"We weren't 100 percent confident with it," Mickel said Thursday afternoon, in her office at the school, 1101 George Williams Way. "We did not have enough information to move forward.
"We decided to err on the side of caution. After further investigation, we decided not to participate."
The foundation has had financial problems. Tonya Evans, a parent with two children at Langston Hughes and executive director of the foundation, has acknowledged that a previous chairman of the foundation had stolen donations, and that the foundation had since moved away from its original plans.
The foundation still wants to build a $15 million private memorial to honor soldiers who have died in the line of duty in operations Desert Shield, Desert Storm, Iraqi Freedom and Enduring Freedom. But the foundation has dropped plans for its original site, in Kennedale, Texas, and now is focusing instead on a 19-acre site in Arlington, Texas.
Evans described Mikel's decision to not participate in the program as "unfortunate," and noted that several other schools had signed on this week — "just not in Lawrence."
Mickel — who never agreed to support the program in the first place, only to consider it — sees things differently.
"We still fully support the military," Mickel said. "And there are enough local charities that need help, without leaving the area."
•••
Officials negotiating on behalf of the Lawrence school district and its teachers say they've agreed to changes to work schedules and other operational matters related to the upcoming reconfiguration of schools this coming year.
But they're declining to talk specifics until 4 p.m. today.
So we have until then to come up with some questions to ask:
• How will this affect working conditions?
• How much money will this cost taxpayers?
• What, exactly, is a "Memorandum of Understanding," anyway?
Just write a comment below, or send me an e-mail, and I'll see about getting some answers...
— Please send me a note about anything you thinks others interested in schools should know. I'm always learning. My e-mail: mfagan@ljworld.com.
Copyright 2017 The Lawrence Journal-World. All rights reserved. This material may not be published, broadcast, rewritten or redistributed. We strive to uphold our values for every story published.