Photo Gallery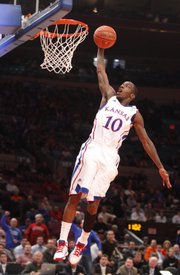 KU vs. Memphis
Press Conferences & Post-Game Interviews
KU coach Bill Self
Selections from KU coach Bill Self's press conference following the Jayhawks' 81-68 victory over Memphis on Dec. 7, 2010.
New York — Elijah Johnson, who had seven points, three assists and a steal in 21 minutes against Memphis on Tuesday, spent some of his postgame interview session commenting on transfer rumors that never seem to die.
"That's nothing to even pay mind to. I'm a Jayhawk. I'm gonna be here until they kick me out. I don't think they are going to kick me out anytime soon," Johnson said after playing a big role in the Jayhawks' 81-68 victory.
Before Tuesday's game, the sophomore guard from Las Vegas had heard that a Kansas City radio station had discussed rumors of his leaving KU.
Apparently no possible destinations were discussed.
"Sometimes it gets confusing and irritating when people put words in your mouth. You don't say anything (about transferring) and have media and other people come up to you, and it doesn't make sense at all," Johnson said. "It seems you are the last one to find out about it."
KU coach Bill Self had no comment on the matter and instead invited reporters to speak with Johnson about the rumors that caused quite a commotion Tuesday.
Following reaction to the radio report on Internet message boards, the Las Vegas Sun checked with Johnson's high school coach, who said his former pupil said he was happy at KU. Also, Johnson's dad, Marcus, was peppered with phone calls at his Las Vegas home.
Self did comment on Johnson's performance, which included an alley-oop dunk off a feed from Marcus Morris, an alley-oop pass to Markieff Morris for a slam, as well as a three-point bucket.
"He played terrific," Self said. "He gave us good minutes, made a good lob pass, attacked the rim. He got off to a shaky start, played well after that."
Johnson was his usual colorful self in speaking with reporters after the game.
Of his own alley-oop dunk, he said: "It was a brush in the wind. I enjoyed it for the time being, but after that it was over."
Of his overall effort, he said: "I feel it was my most sterile (calm) performance. Every game I played good, there's been something I could improve on. Tonight I felt I had a couple turnovers but was not credited with a turnover. All I need to do is not turn the ball over and speed the game up."
Wright attends
Former KU forward Julian Wright attended the game. Wright's Toronto Raptors meet the New York Knicks tonight at Madison Square Garden.
"I was first in line when they opened the doors," Wright said enthusiastically. "I was first in when the gates opened."
He spoke with the Jayhawks before the game and visited the locker room again after the game.
"I looked at our schedule and saw we had an off day and couldn't believe it," Wright said. "I couldn't pass up seeing the Jayhawks play Memphis. It was great to see all the guys, see coach Self and all the coaches."
Wright had not seen a KU game in person since the 2008 national title victory over Memphis.
"I hope I'm the good luck charm," Wright said before the game.
"I'm blessed to be in Toronto now, playing with a great bunch of guys," he added. "I'm 23 now. It's definitely going by fast."
Wright will be a free agent after this season.
"New Orleans picked up my option before I was traded (after last season)," Wright said. "If there is a lockout, which a lot of people don't want to talk about, I don't have a contract to honor. We're told to be very cautious about what we say (about possible lockout). We're very fortunate to have jobs when a lot of people don't have jobs. You always want job security."
Of his limited playing time, he said: "I'm not playing as much as I have based on how hard I've been working. I've been waiting for my opportunity. It's all I can do. It's the nature of the business. There's talented guys on every team. All I can do is what I can. I think people realize how hard I work. That carries you a long way."
Tying one on
It was pointed out to Self he wore the same tie as he did in the national championship game.
"I didn't know that," he said. "I just picked the tie."
Stats, facts
KU is 8-0 for the fourth time under Self. ... KU is 1-2 all-time in the Jimmy V. Classic. KU snapped a four-game losing streak in the Garden. ... KU is 6-2 versus Memphis. ... The Jayhawks shot 57.1 percent from the free-throw line Tuesday night, which was its lowest percentage since shooting 53.3 percent from the line against UCLA in the previous outing.
Copyright 2018 The Lawrence Journal-World. All rights reserved. This material may not be published, broadcast, rewritten or redistributed. We strive to uphold our values for every story published.