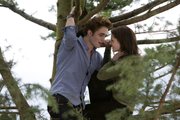 Has 'Twilight' led to biting trend?
Washington — So, here's the latest vampire-related trend apparently sweeping through middle schools: Some teens are biting each other, usually on the neck, as a way to declare love or friendship.
And, of course, they are documenting the act and slapping it up on Facebook for their parents to see.
The Early Show reported Wednesday morning that the "troubling new trend among teens" is likely the result of the booming popularity of the book and movie series, "Twilight" and the HBO show "True Blood."
The Early Show also had several experts explain all of the things wrong with this trend, including:
1) Although teens may be "sharing blood" as a sign of closeness, it can also be a way for one teen to "mark" another teen, showing possession.
2) Mouths are full of germs and bacteria. If a bite breaks the skin, it could easily get infected. Teens with bites "should be on the lookout for swelling, redness or pus."
3) Biting can be a form of emotional and physical abuse.
— The Washington Post
Jill Etesse was hooked on the "Twilight" books the second she cracked the series opener. She ripped through the saga on paper and rented movie No. 1.
Then the madness began.
"I joined the lines of teens for 'New Moon,'" said the 38-year-old mom of two. "My husband is deathly embarrassed. Half my friends think I'm crazy."
Etesse, from Leesburg, Va., won't let her 8-year-old daughter anywhere near Team Edward OR Team Jacob, but did she take herself to "Eclipse" this summer? "Oh yeah."
Is there something, um, icky about moms lusting after the boys of "Twilight" or other morsels of ripe screen candy? Heck no, said 54-year-old Toni Downey of Limerick, Pa. We're not dead yet!
Downey's more into Matt Bomer, 32, of TV's "White Collar" at the moment, but "I've had impure thoughts about barely legal boys as well." Strictly the celebrity look-don't-touch variety, she notes.
Eighteen-year-old Taylor Lautner's six-pack? "Mind-boggling," said Downey, who has a 25-year-old daughter. "She likes Buffy as her only vamp thing, and we both thought Pattinson was hotter as a blond in Harry Potter."
Into the light they've come, publicly declaring their sometimes puzzled joy, juggling movie schedules with diaper changes, kid lunches and soccer practices. They're definitely looking forward with younger fans to the last two "Twilight" movies starting next year, and they're scooping up all sorts of reads intended for the young.
"I have no idea why it's so appealing to me," Etesse said of her "Twilight" jones. "I'm married to a tall, dark and handsome French-Irish guy, but those abs, you know. I'd trade a pair of my Jimmy C's for my husband to have those."
In June, 30-year-old mom Christina Fiedler was undaunted by a tent city of young people on her way in to a special screening of "Eclipse" at a Los Angeles theater. She's not all that much older than 24-year-old Robert Pattinson and his mid-20s Cullen kin, played by Kellan Lutz and Jackson Rathbone, but her mom status makes her feel light years their senior, especially since they're all supposed to be teens on screen.
"What an odd experience to be an adult woman in a theater full of screaming tweens," said Fiedler, who has a 2-year-old son and has blogged about her "Twilight" habit at Mom Logic. "I didn't go with my Team Jacob or Team Edward shirt like some of the women my age did. There were quite a few of them. I didn't talk back to the screen like they did."
Is there an age cutoff of appropriateness? A mom code when it comes to ogling young hunks?
Single mom Victoria Martinez, 37, in Hemet, Calif., said yes. She has three boys of her own, ages 15, 14 and 11, and won't let her mind wander to jail bait. The Cullen clan may be playing teens, but they're way legal in life so it's full steam ahead.
"I don't have a husband or even a significant other to worry about when it comes to my man candy crushes," she said, adding that she's a bit of a cougar on the ground. "Taylor Lautner isn't on my list because he's only 18 and I still think of him as Shark Boy."
Martinez first heard of the Twilight saga when she learned the bedroom-eyed Pattinson was cast as Edward. "He's the reason I read the books. There's just something irresistible about him. I'll continue to lust over and enjoy them on the big screen long after the teens move on to the next big thing."
She has others, not just the Twilight crew. There's Jake Gyllenhaal, who at 29 was "a nice piece of summer eye candy" in "Prince of Persia." Downey especially liked the Entertainment Weekly spread featuring Bomer pouring a jug of water over his head, nicely soaking his white T-shirt.
"And he and his character have a pinch of naughty in the devastating smile," she said.
With an upswing in grown-ups (yes, women) embracing books intended for teens, are moms thinking younger, or at least enjoying the freedom to express their still-young sides in ways June Cleaver was denied?
Fiedler's Team Edward, though considers him bad boyfriend material for his younger fans. He encourages Bella to keep secrets from her family and ditch her old friends. He needs anger management counseling and the two are never happy. Besides, his family finds her "irresistible." You be the judge.
"It's not so much as a 'lust' thing as it is escaping from a hectic daily life and into their frivolous ones," she said. "It's this generation's Romeo and Juliet — forbidden love."
Copyright 2017 The Associated Press. All rights reserved. This material may not be published, broadcast, rewritten or redistributed. We strive to uphold our values for every story published.