Topeka — Kansas airports support more than 47,000 jobs, generate $2.3 billion per year in payroll and produce $10.4 billion in economic activity, according to a study released Wednesday.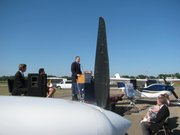 The $337,000 study -- funded mostly by the Federal Aviation Administration -- assessed the impact of the state's 132 general aviation airports and eight commercial airports.
"Whether moving goods, providing emergency assistance or connecting our communities, airports play a critical role in the Kansas economy," said Lt. Gov. Troy Findley.
Lawrence Municipal Airport employs 96 people with a payroll of nearly $3.6 million per year, producing an annual economic output of $10.7 million, the report said.
Kansas Department of Transportation Secretary Deb Miller said the study will enable officials to better plan for future airport needs.
The new state transportation plan includes $3 million per year for airport improvements, which will increase to $5 million per year in 2013.
On Wednesday, KDOT also announced 25 airport grants worth $1.3 million. In northeast Kansas, airports in Atchison, Sabetha and Topeka received funds for facility improvements.
Copyright 2018 The Lawrence Journal-World. All rights reserved. This material may not be published, broadcast, rewritten or redistributed. We strive to uphold our values for every story published.