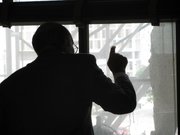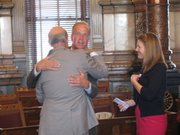 Topeka — U.S. Sen. Pat Roberts, R-Kan., who supported the war in Iraq under former President George W. Bush, said Monday that he has concerns about U.S. troop withdrawals in Iraq under President Barack Obama.
"When you set deadlines, you automatically encourage your adversaries," Roberts said.
U.S. fighting forces are preparing to leave Iraq. About 50,000 troops will continue training Iraqis to handle security, but they are scheduled to leave at the end of 2011. American military commanders have said they are confident Iraqi security forces will be able to take over then.
Roberts said the threat of a terrorist attack on the United States remains and he accused the Obama administration of being naive. "I'm just not sure that we can reform the Muslim world in the eyes of the president," he said.
He also said that the Obama administration's diplomatic efforts in Afghanistan and Pakistan were too public.
"Can't we do this a little more quietly?" he asked.
Roberts' comments came in response to a question during a news conference in which he endorsed U.S. Rep. Jerry Moran's bid for the Senate.
Moran, a Republican from Hays, faces Democrat Lisa Johnston, a Baker University administrator, in the contest to replace U.S. Sen. Sam Brownback, R-Kan. Brownback is running for governor against state Sen. Tom Holland of Baldwin City.
Also in the Senate race are Libertarian Michael Dann of Baldwin City and the Reform Party's Joseph Bellis of Overland Park.
Roberts said that Moran would help fight the proposals of Obama, Senate Majority Leader Harry Reid, D-Nev., and House Speaker Nancy Pelosi, D-Calif.
"The Obama, Reid, Pelosi agenda has taken over virtually every part of our lives," Roberts said.
Moran said the country needed to change direction.
"Almost no Kansan believes that their children and grandchildren are going to have a better life than the one that they had. That is something different in America. We have not experienced that before, and it's time for us to reverse course," Moran said.
Copyright 2018 The Lawrence Journal-World. All rights reserved. This material may not be published, broadcast, rewritten or redistributed. We strive to uphold our values for every story published.