Between 1985 and the 100th anniversary of the Vinland Fair in 2007, I documented this community event as a personal photo project.
Photo Gallery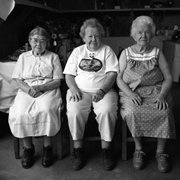 Vinland Fair
It became a visual exercise that I could return to each year and create a large body of photographs. It tested my abilities to look at similar subject matter over a long period of time and explore different ways of photographing what I saw. The architecture of the fair buildings, the exhibits, the people and activities came under the scrutiny of my camera.
I used color and black-and-white film, 35mm Single Lens Reflex and 2 1/4 Twin Lens Reflex cameras with a variety of lenses. Over the course of these 22 years I probably took several thousand photographs. This documentation concluded with a Vinland Fair photo exhibition of about 40 prints at the Lawrence Arts Center in 2007 and publication of an on-demand photo book.
On Aug. 6, I gave myself another fun, photographic exercise by attending the Demolition Derby at the Douglas County Fair. This project was much shorter. I took one digital camera body with one 50mm lens, photographed for three hours and took 184 exposures. I edited the shoot to 40 photographs and then put together a quick on-demand photo book using Blurb.com's BookSmart software.
Photo Gallery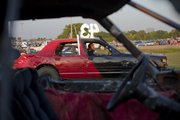 2010 Douglas County Fair Demolition Derby
The two projects are extreme examples of pursuing personal photography projects. Having experienced both I've learned a few things about planning, photographing and completing this type of work. My thanks to Brooks Jensen, editor of LensWork, and his book "Letting Go of the Camera," for some of the items on this list.
Finding great subject matter is an art in itself. But any subject can be worthy of project work if the photographer has an interest in the subject. I'm not a particular fan of the Demolition Derby, but the participants and activity around the event led to some creative opportunities for my photography.
Photographers are more scared of people than people are of photographers. Don't be afraid to get close in situations where people are engaged in an activity you are photographing. I think people are flattered by being photographed. If not, they will certainly let you know.
Too many choices will slow you down. During my years documenting the fair I would try different cameras or types of film in an attempt to be more creative or do something different. It seldom led to better images. It just created more options that got in the way of the picture taking. For the Demolition Derby I had one lens, one camera, shot in color, and I stopped shooting after three hours. It was a relief and a revelation. Simplifying my tools helped me focus my eye on seeing.
If you're having a hard time getting out to take photographs, pick a subject or event to document, limit your equipment and expectations and look at what's around you.
"The photographers with the most good photographs are the ones who spend the most time photographing." — Stewart Harvey
Copyright 2018 The Lawrence Journal-World. All rights reserved. This material may not be published, broadcast, rewritten or redistributed. We strive to uphold our values for every story published.