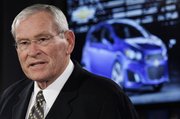 Detroit — In a signal moment for the turnaround of the American auto industry, General Motors is edging toward a public stock sale, and its profits are now solid enough that the demanding CEO will step aside, saying his work is done.
GM said Thursday that it made $1.3 billion from April through June, its second straight quarter in the black and a complete reversal from last year, when it was forced into bankruptcy and the U.S. government took a majority stake.
CEO Ed Whitacre said he would leave his post Sept. 1. He said the GM board knew all along that he would do so after the company returned to health, and industry analysts said it was an important step leading up to the stock sale.
Whitacre, who will stay on as chairman through the end of this year, will be replaced as CEO by Daniel Akerson, a 61-year-old former telecommunications executive who sits on the GM board.
While executives would not discuss the stock sale Thursday, GM is expected to file its initial paperwork with federal regulators as early as today.
"Things look good. There's a foundation in place, a good foundation," said Whitacre, who was drafted out of his first retirement by the government to fix the troubled GM. "I believe we've accomplished what we set out to do."
Notable business news:
• Unemployment claims rise. The economy is looking bleaker as new applications for jobless benefits rose last week to the highest level in almost six months. It's a sign that hiring remains weak and employers may be going back to cutting their staffs.
• IRS free filing helps bypass tax-refund loans. Taxpayers may find the federal government's free e-file system gets them cash refunds almost as quickly as the short-term loans from some tax preparers that cost as much as 25 percent of the proceeds. The agency can process a return and issue a refund within 10 days, Commissioner Doug Shulman said in a statement last week.
Copyright 2018 The Associated Press. All rights reserved. This material may not be published, broadcast, rewritten or redistributed. We strive to uphold our values for every story published.