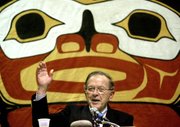 Anchorage, Alaska — To much of the nation, Ted Stevens was the crotchety senator who famously referred to the Internet as "a series of tubes" and fought to build the "Bridge to Nowhere."
But to his constituents in Alaska, he was "Uncle Ted," the state's political patriarch who for four decades reliably delivered billions in federal dollars for the highways, pipelines and ports that helped move his sparsely populated state into the future.
The wiry octogenarian was built like a birch sapling, but he liked to encourage comparisons with the Incredible Hulk — an analogy that seemed appropriate for his outsized place in Alaska history.
"Though small of stature, Ted Stevens seemed larger than life, and anybody who knew him, knew him that way, for he built Alaska, and he stood for Alaska, and he fought for Alaskans," said Gov. Sean Parnell. "Ted was a lion, who retreated before nothing."
Stevens was killed Monday at 86 in a plane crash in a remote part of the state while on his way to a fishing trip. More than 30 years ago, he survived the crash of a private jet at Anchorage International Airport that killed his first wife, Ann.
Four others also died in the crash Monday outside Dillingham, about 325 miles southwest of Anchorage.
A legend
Alaskans loved him, even when the pork-barrel proposals he spearheaded became notorious.
"Ted always said, 'To hell with politics. Do what is best for Alaska.' He never apologized for fighting for his state, and Alaska is better for it today," said Sen. Mary Landrieu, a Louisiana Democrat.
Stevens began his career in the days before Alaska statehood and did not abandon politics until 2008, when he was convicted on corruption charges shortly before Election Day. But a federal judge threw out the verdict because of misconduct by federal prosecutors.
He was appointed in December 1968 and became the longest-serving Republican in Senate history. (The late Strom Thurmond was in the Senate longer than Stevens, but he spent a decade there as a Democrat before switching to the GOP.)
Stevens was a legend in his home state, but his standing was hurt by allegations he accepted a bonanza of home renovations and fancy trimmings from VECO Corp., a powerful oil field services contractor, and then lied about it on congressional disclosure documents.
Indicted on federal charges in July 2008, he asked for an unusually speedy trial, hoping to clear his name before Election Day. Instead, he was convicted in late October of all seven counts — and narrowly lost his Senate seat to Democrat Mark Begich in the election.
Five months after the election, Attorney General Eric Holder dropped the indictment and declined to proceed with a new trial because of misconduct by federal prosecutors. Stevens never discussed the events publicly.
'Stevens money'
His skill in appropriating military and other federal money for Alaska earned him the reputation among many in Washington as a pork-barrel politician.
"In the history of our country, no one man has done more for one state than Ted Stevens. His commitment to the people of Alaska and his nation spanned decades, and he left a lasting mark on both," said Senate Minority Leader Mitch McConnell, a Republican from Kentucky.
He was named Alaskan of the Century in 1999 for having the greatest impact on the state in 100 years — he brought in "Stevens money" that helped keep the remote state solvent. The Anchorage airport is named in his honor.
"The only special interest I care about is Alaska," he was fond of saying.
A television reporter once quipped that Stevens could shoot Santa's reindeer and Alaskans would applaud.
He helped shape landmark legislation on Alaska Native land claims, the trans-Alaska oil pipeline, fisheries management and public lands.
The "Bridge to Nowhere" would have connected Ketchikan, Alaska, to an island with just 50 residents at a cost of $200 million to $400 million. The proposal became a symbol of the waste associated with earmarks, which are items inserted into bills, often at the last minute.
Congress scrubbed funding for the bridge in 2005.
The following year, Stevens became the butt of jokes and satirical songs for describing the Internet as "a series of tubes" and for speaking of sending "an Internet" instead of an e-mail.
Most of the wisecracks portrayed Stevens as an old man who did not understand the technology over which he wielded influence as chairman of the Commerce Committee.
Stevens also was known for being easily angered both in private and on the Senate floor. Stevens saw his volatile temperament as a political tool.
"I don't lose my temper," he told the Anchorage Daily News in 1994. "I always know where it is."
Political life
After graduating from high school in 1942, he attended college for a semester before joining the Army Air Corps. He flew cargo planes over "the hump" in the Himalayas during World War II and was awarded the Distinguished Flying Cross.
After the war, Stevens finished college at UCLA and in 1950 earned a law degree at Harvard. Fresh out of law school, he moved to Washington, D.C., to work and, in 1953, he drove cross-country to the Territory of Alaska to take a job in Fairbanks.
In 1954, Stevens was named U.S. attorney in Fairbanks and two years later returned to Washington to work on the statehood issue for Interior Secretary Fred Seaton, a statehood supporter. Eventually Stevens rose to become the Interior Department's top lawyer.
He moved back to Alaska in 1961, opening a law practice in Anchorage. After losing the 1962 Senate race to incumbent Gruening, he won a seat in the Alaska House of Representatives. When incumbent Democrat Bob Bartlett died in December 1968, Stevens was appointed to the vacancy by then-Gov. Walter J. Hickel, a Republican.
The crash that killed Stevens' first wife happened in 1978, shortly after he was elected to his second full term. Two years later, he married Catherine Chandler, a lawyer from a prominent Democratic family in Alaska.
When Republicans took control of the Senate in 1981, Stevens became assistant majority leader. In 1984, he ran for majority leader, but lost by three votes to Kansas Sen. Bob Dole.
As the most senior Republican in the Senate, Stevens served as Senate president pro tempore and was third in the line of succession for the presidency until Democrats regained control of Congress in 2007.
Copyright 2018 The Associated Press. All rights reserved. This material may not be published, broadcast, rewritten or redistributed. We strive to uphold our values for every story published.