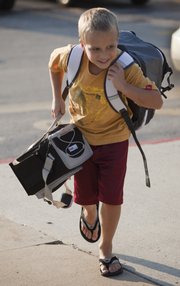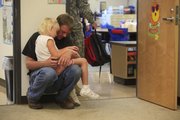 On the street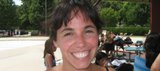 We start trying to set an earlier bedtime and wakeup time and then try to get them to do a little bit of math and a little bit of reading.
Kristi Daigh is a typical 13-year-old girl with an all-too familiar summer routine.
"Staying up 'till 3, waking up at 12 and laying in bed all day," the Eudora seventh-grader says with a laugh.
But her lady-of-leisure schedule is about to change when Kristi returns to school on Aug. 19. For the past couple of weeks, her mother, Bonnie Daigh, has been helping her daughter avoid a rude awakening.
"We have set some appointments earlier in day, so that requires us to get up," Bonnie explains. "And there have been times I've gone and told her that she has to turn things off at bedtime. But, mainly it's just getting her up and giving her things to do."
Bonnie, a math teacher at Eudora High School, knows the value of acclimating students to the school schedule before the first day of class.
"It's pretty obvious that there are some kids who are ready and prepared to go," she explains. "They're not the ones falling asleep or wanting to fall asleep mid-afternoon."
Rick Bavaria, senior vice president for Education Outreach for Sylvan Learning, advises parents not to wait until the day before school starts to change those relaxed summer routines.
"Of course, if you don't, that's OK," he adds. "I tell parents, it's never too late to start a routine, but you have to be fairly firm about it."
According to Bavaria, a predictable daily routine can give a child an enormous advantage in school, and in life.
"Even for adults who don't believe routines are important, think about if you change your morning routine, just by a minute or two. Look at how it throws your whole day off. If it does that for us adults, think of what it does for kids," he says.
Bavaria believes routines provide kids with safety and the knowledge of what to expect next.
"Routines give kids a sense of organization. It puts structure in their lives. So, the more routine we can give to kids — and I do recognize how busy and crazy our lives are — but I think that's a further argument for making sure kids have good, strong routines. Bedtime routine, mealtime routines, a play routine, study and homework routine, friend and pasttime routines. These are rhythms that come with life and make kids feel safe."
Parents can help kids establish and maintain routines by providing basic accommodations in the home.
"Make sure they have place to study and do their homework." Bavaria suggests. "It doesn't have to be their own office, of course. In fact, some kids are better off doing their homework at the dining room table in front of their parents, at a specific time each day, so the parents can monitor them."
Bavaria also points out different children require different plans.
"No two kids learn alike," he notes. "Some kids come home from school and they want to get their homework done immediately so they can have the evenings to themselves. Other kids need to expend some energy first. It's OK to let them go run around outside. So, you've got two different routines for homework. I know it's more difficult, but it's better for the kids. Know your child's learning style."
A consistent schedule is even more important for children of divorced parents who spend time in two households. In the best-case scenario, routines should be the same from one parent's household to the other.
"If that can't happen, then each parent having routines is a good strong second choice," Bavaria says. "If the child is at mom's house for X number of nights a week and she has routines that are appropriate for the child, then she goes to dad's house, it doesn't matter if the times are exactly alike as long as long as the child knows what to expect."
The importance of routine isn't lost on 13 year-old Judson King from Lawrence.
"I know I'm going to have to start going to bed early, start eating better. I can't just do whatever I want," he says. "You have to do things this way, that way, so you can have a good day."
His mother, Rebecca Weeks, agrees.
"Frankly, I need to have those time perimeters myself so we don't stay up until nine and I think, 'Oh my goodness, nobody's had a bath,'" she says. "Because kids need a lot of sleep, especially when they're growing."
Still, that doesn't mean it's going to come easily. Seven-year-old Ashton Weeks sees trouble ahead.
"I don't like getting up early," she says. "I like waking up at 8 o'clock in the morning. Saturdays are like the only days you can sleep in."
"Then how come you never do?" her mom replies.
Copyright 2018 The Lawrence Journal-World. All rights reserved. This material may not be published, broadcast, rewritten or redistributed. We strive to uphold our values for every story published.