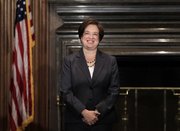 Washington — Vowing to "administer justice without respect to persons and do equal right to the poor and to the rich," Elena Kagan was sworn in by Chief Justice John Roberts as the 112th justice to the Supreme Court on Saturday.
She is the second justice President Barack Obama has placed on the nation's highest court.
Kagan, 50, the Obama administration's solicitor general, succeeds 90-year-old Justice John Paul Stevens. The ceremony came two days after the Senate confirmed Kagan in a partisan vote of 63-37. She is the fourth female justice to serve on the high court.
Widely considered a consensus-building liberal, Kagan is not expected to change the ideological balance of the court, which often splits 5-4 on key decisions. In the years ahead, the court is likely to hear controversial cases on such issues as immigration and same-sex marriage.
In her first term, Kagan will recuse herself from several cases because of her work as solicitor general. On the court's opening day, Oct. 4, she will disqualify herself from sitting on a case regarding laws pertaining to mandatory minimum prison sentences.
Democrats describe Kagan, the former dean of Harvard Law School, as a keen legal scholar. Republicans noted during her confirmation hearings that she has never been a judge and questioned her politics as a policy adviser to former President Bill Clinton.
The fourth new justice in five years, Kagan is part of a generational shift taking place on the nine-member court. She is the fifth justice to have been born after World War II. And her formal installation, which will take place at the start of the court's new term, means that, for the first time in U.S. history, three women will share the bench.
Copyright 2018 The Lawrence Journal-World. All rights reserved. This material may not be published, broadcast, rewritten or redistributed. We strive to uphold our values for every story published.