Photo Gallery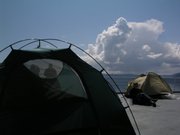 Mendenhall Glacier
Here's a cooling thought for the dog days of summer: Imagine yourself on vacation, with your favorite camera, standing on a 1,500-square-mile ice cube.
Sound like paradise compared with Kansas in August? Actually, it was the Mendenhall Glacier, outside of Juneau, Alaska.
I'm not extravagant, but on a past vacation to our 49th state, I found out about trips to this glacier via helicopter. I opened up the checkbook and booked a flight. Once in Juneau, four other adventurers and I crowded in an A-Star 350 series helicopter for the trip. Noted naturalist John Muir visited in 1879 and considered Mendenhall to be "one of the most beautiful of all the coastal glaciers."
I had a back seat for the flight out, but by using my wide-angle lens I could photograph the distant landscape through the forward window. This created a framing device and also provided foreground elements of the riders in front. I switched to a telephoto lens to frame some distant waterfalls in the mountain of ice.
A few tips on aerial photography:
When photographing a scene out a window, always make sure your exposure is for the subject or landscape outside, even if you are including subjects inside the plane. Better to have your interior subject underexposed than your exterior subject overexposed.
If possible, put the front of your lens close to the glass to eliminate glare.
Use shutter speeds of 1/500th or faster.
Rather than attempting to focus on distant subjects in flight, set your lens focus on infinity.
We landed on the glacier at a base camp, slipped metal spiked crampons on our boots and were soon off with a guide to explore crevices and to ford blue sun-melting streams. I carried cameras with a wide-angle lens and a telephoto lens. When you are a participant in an activity that you want to photograph there's one problem. To relate the scale or relationship of your group to the environment, you either have to get ahead of, or fall behind your group. After 30 minutes of hiking and practicing ice wall rappelling, I straggled. This meant I could photograph the tiny specks of hikers against the expansive ice fields as they receded away from me. If you're a pessimist, you should run ahead and photograph the group moving toward you. This way you won't get lost and miss your flight. If you're an optimist, you can lag behind and make up the distance by moving fast or hope they'll miss you and hold the helicopter. Either way, you'll have better photos than everyone else.
Photographer's frugal tip: Take the Alaska Marine Highway System ferries for travel up the Inside Passage. You can rent a cabin or pitch a tent on deck. They have facilities for laundry, dining, large deck viewing areas and space for automobiles.
Copyright 2018 The Lawrence Journal-World. All rights reserved. This material may not be published, broadcast, rewritten or redistributed. We strive to uphold our values for every story published.