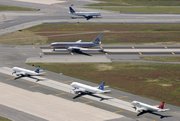 Dallas — New government rules make it less likely that you'll be stranded for hours on the ground inside an airplane this summer.
But could you be grounded for days instead?
Starting April 29, passengers will have the right to get off a plane if it's stuck on a tarmac for three hours unless doing so would jeopardize safety.
Two airlines — Continental and US Airways — are already telling pilots to return planes to the gate in time to beat the deadline. Airline officials say hundreds of flights are likely to be canceled at the hint of bad weather as carriers try to avoid potential fines in the millions of dollars for violating the 3-hour rule. With planes expected to be full this summer, bumped travelers will have difficulty finding an empty seat on a later flight.
"The misery index for airline passengers is definitely going to go up," says David Stempler, an aviation lawyer and president of the Air Travelers Association.
Some industry experts say cancellations aren't likely to be as severe as many fear. They argue that financially strapped carriers won't risk losing revenue and passenger loyalty at a time they desperately need both. Government officials say they rarely impose the maximum penalties.
Travelers won't know who's right until the first big summer thunderstorm paralyzes a major hub, such as New York, Chicago or Dallas. Weather is the biggest cause of long tarmac delays.
W. Keith Jones, vice president of sales for a Dallas-area software company, says airlines should be able to adjust schedules when bad weather hits. While waiting for a recent flight to Hartford at Dallas-Fort Worth International Airport, Jones vowed to retaliate if his flight is scrubbed after two hours on the tarmac.
"They do that and they start giving me reason to pick another airline," says Jones, who believes some airlines such as Southwest handle disruptions better than others.
Scott Ivey, a frequent flier and owner of a technology-services company, says he sat on grounded planes at least three times in recent years, the longest a six-hour wait on a Southwest jet in Columbus, Ohio, due to fog. He agrees with allowing passengers to disembark.
After a couple of hours in close quarters, "tempers can flare," he says.
But Jill Peloquin of Sacramento, Calif., doesn't want her plane turning around if there's a chance of taking off.
"If they have air conditioning, I would go with sitting on the tarmac," Peloquin says. She fears pilots won't find a gate available for discharging passengers. And she's afraid later flights will be full.
Airlines usually don't pay hotel and meal tabs for passengers stranded by bad weather or other factors outside their control, the past week's mass cancellations from a volcanic ash cloud over Europe being a prime example. If airlines cancel flights to avoid violating the 3-hour rule they won't pay for customers' hotels, says Meara McLaughlin of FlightStats, which tracks on-time performance in the airline industry.
Delays longer than three hours are rare. In 2009, the government counted 903 out of more than 6.4 million flights — one for every 7,143.
If the new rules had been in effect, the airlines would likely have canceled all 903 flights before three hours. And maybe many more.
"There is a large number of flights that are delayed between two and three hours where we'll have to make a hard-deadline decision" whether to cancel, says Steve Hozdulick, operations executive at Southwest Airlines.
Southwest had 33 flights delayed three hours or longer last year, one of the lowest rates in the industry. But Hozdulick estimates that another 200 to 300 were stuck on the tarmac at least two hours, and those would now be prime candidates for cancellation.
Copyright 2018 The Associated Press. All rights reserved. This material may not be published, broadcast, rewritten or redistributed. We strive to uphold our values for every story published.