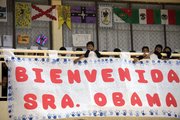 Mexico City — Michelle Obama stepped from her black SUV and into a sea of screams, cheers and squeals of delight that filled the sun-splashed courtyard of a public elementary school Wednesday in Mexico's capital.
Dozens of 6- to 12-year-old students — some in costumes, others in gym clothes — welcomed America's first lady with a show.
One group dressed as Aztecs in white paper costumes and caps with multicolored feathers performed a Mexican ritual dance. Another group did calisthenics for Mrs. Obama, whose cause at home is a campaign against childhood obesity. Other kids entertained with a lively twist-style dance, and they were followed by a chorus that serenaded her.
Mrs. Obama joined in at one point, clasping hands with a group that had formed a circle and singing along with students at the Escuela Siete de Enero, which is in one of Mexico City's poorer neighborhoods.
"That was beautiful, everything you did," said the first lady, whose two-day visit is her first ever to Mexico.
"I loved the singing. I loved the dancing. I loved to see you all moving and exercising."
She said she loves "getting to see really smart, bright young people" when she leaves the U.S.
There was one small request, though. "Before I leave, I need some hugs," Mrs. Obama said. Wading into one of the groups, the tall first lady bent at the waist to embrace the kids.
As she hugged the pint-sized performers, students packed into balconies above began chanting in Spanish for her to "Come up! Come up!" She didn't make it.
Mrs. Obama came to Mexico to launch an international effort to engage young people everywhere and encourage them to become leaders and problem-solvers in their communities.
Nearly half the population in Mexico, for example, is younger than 25. Worldwide, people ages 15-24 make up 20 percent, or one-fifth, of the population, she said in a speech that amounted to a call to action.
Addressing some 2,000 invited high school and college students gathered in an outdoor plaza at Universidad Iberoamericana, Mrs. Obama said ordinary citizens, including young people, must step up to help governments and world leaders like her husband solve everything from poverty and hunger to climate change and extremism.
"The fact is that responsibility for meeting the defining challenges of our time will soon fall to all of you," she said.
"Soon the world will be looking to your generation to make the discoveries and build the industries that will fuel our prosperity and ensure our well-being for decades to come."
Mrs. Obama's entire speech was immediately translated and broadcast live throughout Mexico.
The first lady also held up herself and President Barack Obama as proof that "potential can be found in some of the most unlikely places." Neither Obama is a product of privilege; both came from humble circumstances. Her parents weren't wealthy or college-educated. He never really knew his father and was raised by his mother.
"Back when we were young, no one could have predicted that we would one day become the president and first lady of the United States of America," she said, crediting their rise to hard work, luck and blessings.
Missing from the speech, which was shown on huge screens erected in the plaza, was any mention of the drug problems plaguing Mexico and what young people might do about it.
The issue came up earlier in the day during a private, 45-minute meeting with Margarita Zavala, the wife of President Felipe Calderon, at the presidential residence Los Pinos.
The two first ladies discussed drug addiction treatment and early prevention programs, Mrs. Obama's office said in a statement.
Copyright 2018 The Associated Press. All rights reserved. This material may not be published, broadcast, rewritten or redistributed. We strive to uphold our values for every story published.