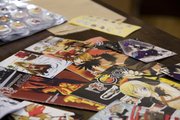 Comic books as an art form have generally been treated as the deformed stepchild of American pop culture. Despite the colossal global success of films adapted from comic books, such as "The Dark Knight" or "Spiderman," comics in the United States have yet to really break out of the ghetto of escapist children's entertainment.
Japan, however, is a completely different story. Comics, or "manga" as they're known over there, infuse everyday life and rivals television as a means of legitimate mass communication for the Japanese. If the Lawrence-based publishing upstart Mangacandy has its way, that sort of deep appreciation for comics will take root right here in the heartland.
"Once you start seriously reading Japanese comics, it changes your life," says Angela Liu, founder of Mangacandy, who was introduced to manga at an early age by her Japanese mother.
"I think a lot of the stories in comic books give you a piece of the authors themselves. It makes you realize that you're not alone in the feelings and experiences you have. There are still superhero stories in Japanese comics, but a lot of stories are smaller and will maybe talk about girls who go through different troubles in their lives or talk about taboo subjects that you never thought you could talk about before."
Most Westerners think of the hyperstylized art of animated shows like "Pokemon" or "Speed Racer" when they think of manga, which is a stereotype Mangacandy would like to dispel.
"In Japan, comic books are more spread out so far as genres and the demographic is larger," says Justin Boehle, one of Mangacandy's stable of regular contributors.
"Businessmen will pop out a comic book and read it on a train in Japan, for example. It's a huge industry. I've read that there are more copies of comics in circulation in Japan than there are copies of The New York Times in the United States. And people write about a lot more than just superheroes in Japan. A lot of the time they're just about regular people and the experiences of the artist. It's a really wide variety. As I see it, in Japan, there's a comic for everybody."
Liu and her friends started Mangacandy in 2006 in her family's living room the old-fashioned way, with a computer laser jet printer and staples.
"It was one of the most horrible experiences of my entire life," say Liu, laughing about their do-it-yourself roots. "After that, all of our comics are printed through different companies."
They've now expanded to using professional printers, with four ongoing titles, several stand-alone issues, and have even begun making toys and stickers to accompany the comics (toys and stickers which they've outsourced the manufacture of to China, just like a real American corporation). Despite the more and more professional trappings of Mangacandy, its core mission remains to foster independent talent.
"The reason Mangacandy exists is to encourage amateur artists who seriously wish to publish their stories and to provide them a chance to do so," says Samantha Phillips, one of the founding artists of the company and Liu's buddy since high school.
"Self-publishing is a very difficult and costly project for anyone who is just starting out, and is a very daunting step to take. Mangacandy takes the cost and the risk out of the equation for the artist," she says.
"I never imagined that I'd be able to properly tell my stories to others, but Mangacandy gave me that chance, and I am very grateful," Phillips adds. "Mangacandy lets readers experience new stories that may have otherwise gone unwritten, and that's why I believe in it."
Mangacandy absorbs all of the cost of printing for the author and pays them a commission for every piece of their work sold. As of right now, they have no official distribution channels and rely mostly on comic book conventions to sell their goods.
"The reason I set up this system is, usually, when artists print comic books, they all have to pitch in a certain amount of money to print. But a lot of artists are students or working or have families, so they don't have the kind of extra funds to afford printing," says Liu, herself a pharmacy graduate student at Kansas University, manager at DonDon Japanese Rice and Noodle Bowl Shop and a part-time translator of manga from Japanese to English. Phillips and Boehle are also KU students.
Mangacandy has a fluctuating stable with a core group of six artists. The disparate subject matter of their comics ranges from romance to fantasy to comedy, unified only by a visual flair heavily influenced by Japanese art and a distinctly indie ethic.
"The main goal of Mangacandy, which is the whole reason I started it to begin with, is to give people who read comic books the idea that you can do this," says Liu.
"It's not that hard to print comics. I want to show people how easy it can be and that it doesn't have to be your whole life. Manga is a wide and open world you can enjoy and have a good time with."
Copyright 2018 The Lawrence Journal-World. All rights reserved. This material may not be published, broadcast, rewritten or redistributed. We strive to uphold our values for every story published.