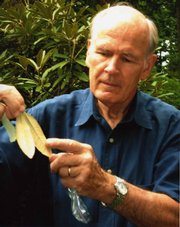 Chosen for induction into the Lawrence Lions Alumni Association's Hall of Honor for 2009 are Joe Flannery, president of Weaver's Department Store; and Ben D. Hall, a professor emeritus of biology and genome sciences and leader in genetic engineering.
An induction ceremony is set for 2 p.m. to 4 p.m. Oct. 4 in the rotunda at LHS, 1901 La. The public is invited.
"It's amazing to me how many (great) people have come out of Lawrence," said Marsha Goff, chair of the association's Hall of Honor Committee. "Across the board, you'll find people in all professions who come from Lawrence High and have achieved success beyond all expectations — well, most people's expectations. Not ours."
Lined up to introduce Flannery at the ceremony is former Jayhawk football coach Don Fambrough, while attorney Jack Brand is scheduled to introduce Hall.
Flannery, who graduated from Lawrence High in 1968, received a KU degree in 1972 and now leads Weaver's, a landmark independent department store at the corner of Ninth and Massachusetts streets in downtown Lawrence. He is chairman of the Lawrence Memorial Hospital Board of Trustees, and serves on the boards of Douglas County Bank and the National Retail Federation.
Hall is a 1950 graduate of Liberty Memorial High School, which served as the city's public high school before the current LHS opened in 1954. He earned degrees at KU and Harvard University and, in 1981, Hall and his colleagues at the University of Washington produced human interferon in simple baker's yeast — leading to inventions that allow such yeast cells to be used in producing a Hepatitis B vaccine, human insulin and other products. In 2007, UW dedicated the Benjamin D. Hall Interdisciplinary Research Building. Licenses based on his research have generated more than $130 million in revenues for the university.
For more information about the alumni association, visit LawrenceLionsAlumniAssociation.com.
Copyright 2018 The Lawrence Journal-World. All rights reserved. This material may not be published, broadcast, rewritten or redistributed. We strive to uphold our values for every story published.