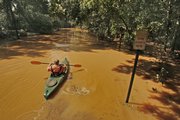 Austell, Ga. — Neighborhoods, schools and even roller coasters at Six Flags over Georgia remained awash in several feet of murky brown water Tuesday, even as an emerging sun shed light on the widespread flood damage.
So far, at least nine deaths in Georgia and Alabama were blamed on the torrential downpours in the Southeast. The storms finally relented and relief was in sight with just a slight chance of rain overnight, but the onslaught left many parts of the region in stagnant water.
In Tennessee, a man was still missing after jumping into the fast-moving water as part of a bet.
Boats and trucks evacuated 120 residents from a retirement center as nearby creeks rose, and several hundred others were ferried from low-lying neighborhoods and motels to dry land.
Several hundred people in Georgia took refuge at shelters and officials worked to clean up and repair washed out roads and bridges. Georgia officials estimated $250 million in damages.
The storm left nine people dead in its wake, including a toddler swept from his father's arms. On Tuesday, rescuers found the body of 14-year-old Nicholas Osley who was swimming in the Chattooga River, along with another woman who was swept from her car in Douglas County just west of Atlanta.
Authorities also released a 15-minute 911 call of another storm victim's last moments. Seydi Burciaga, 39, screamed to a dispatcher as water rose to her neck. The dispatcher advised her to try to break a window, but she couldn't.
"I don't want to drown here, please!" Burciaga said.
After several days of steady rain, the ground was saturated from Alabama through Georgia into eastern Tennessee and western North Carolina.
The floods came just months after an epic two-year drought in the region ended with winter rains.
Georgia emergency officials warned residents not to return to their homes too soon because the lingering water was still dangerous. Some ignored officials and had to be rescued.
"We had people who were out safely but decided they wanted to get back in danger," said Charley English, head of Georgia Emergency Management Agency.
The devastation surrounding Atlanta was widespread. In Austell, about 17 miles west of downtown Atlanta, Sweetwater Creek overflowed its banks, sending muddy water rushing into a nearby mobile home park where several trailers were almost completely submerged.
"We don't know what to do," said Jenny Roque, 30, who lived there with her husband and four children. "The only thing we have left is our truck."
Just down the road, in the Mulberry Creek subdivision, large houses built just five years ago were partially underwater. Some residents tried to salvage anything.
"There's things that you can't replace, but it's just stuff," said Deborah Golden, whose split-level home was mostly underwater. "But there are four people in our family and we're all safe, so we're glad for that."
As Peachtree Creek in Atlanta began to recede, residents were packing moving vans with furniture and commiserating about water-logged apartments.
"I'm toast," said Penny Freeman, who moved into a first-floor unit five days ago. "I don't have a place to stay. I'm losing my mind right now."
Washed-out roads and flooded freeways around metro Atlanta caused commuters headaches. Gov. Sonny Perdue asked President Barack Obama to declare a state of emergency in Georgia.
Copyright 2018 The Associated Press. All rights reserved. This material may not be published, broadcast, rewritten or redistributed. We strive to uphold our values for every story published.