Spodcasters
Postgame: Duke
The guys (Tom Keegan, Jesse Newell) tie up loose ends from KU's 44-16 victory over Duke. The two talk about Todd Reesing's solid performance, the improvement of the offensive line, areas of concern for the Jayhawks and the correct etiquette when playing golf.
Audio Clips
KU-Duke football
KU vs. Duke
-->
Photo Gallery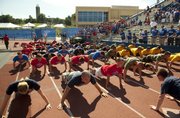 KU vs. Duke
The leading rusher on the Big 12's top rushing attack found himself pacing the sideline for much of Kansas University's 44-16 victory over visiting Duke on Saturday.
Jake Sharp, the No. 22 Jayhawks senior running back who entered the weekend averaging 113.5 rushing yards a game and had tallied a conference-best five total touchdowns, spent the afternoon nursing an undisclosed injury sustained during a noncontact drill in practice last week.
"It was just a strange occurrence," KU coach Mark Mangino said. "We thought he was going to be OK, but when we went out in the pregame (and he had) to cut, he didn't feel good. He just didn't have that spring, that explosion, in his step."
"I don't think it's a long-term thing," the coach added, "But it was enough to at least keep him out of today."
The injury presented an unfortunate road bump for the 5-foot-10, 195-pound Salina native, who was off to the best start of his Kansas career.
Although Sharp was in the starting lineup Saturday, carrying the ball five times for 13 yards and catching a seven-yard touchdown pass, he was visibly slowed by the injury and was eventually relegated to the bench as true freshman Toben Opurum garnered the majority of the team's carries.
"I'm sure Jake's a little upset," KU receiver Kerry Meier said. "But he's the type of guy who's going to shake it off. He's going to shake it loose, and he'll be ready to go next week."
Starting tight end Tim Biere, meanwhile, is expected to return to practice this week after missing Saturday's game due to the flu.
Tharp makes statement: Of the three true freshmen who have contributed significantly for Kansas this season, two — highly-touted recruits Opurum and Bradley McDougald — aren't all that surprising.
The other is particularly shocking.
Despite missing his entire senior season of high school football because of an ACL injury, first-year linebacker Huldon Tharp, who hadn't played in an organized football game in nearly two years before Kansas' season-opener against Northern Colorado, has quickly established himself as a prominent member of the team's linebacker corps.
On Saturday, Tharp finished with 10 tackles — second on the team behind Darrell Stuckey's 11 — while showing a propensity for making open-field tackles that left his coach impressed afterward.
"He made some mistakes today that as coaches we noticed — glaring mistakes," Mangino said. "But then, boy, he came back and made some really good plays. ... (He's a) tough, hard-nosed kid, a good athlete. So we took a chance with him, and it's worked out for him and us."
Copyright 2018 The Lawrence Journal-World. All rights reserved. This material may not be published, broadcast, rewritten or redistributed. We strive to uphold our values for every story published.