Past Event
When: Saturday, September 26, 2009, 7:30 p.m.
Where: Lawrence Arts Center, 940 New Hampshire St., Lawrence
Cost: $7 - $10
-->
-->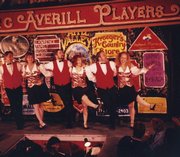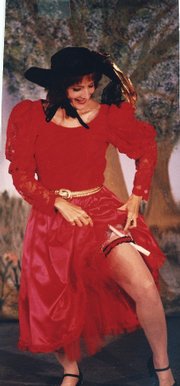 It's been more than a decade since Lawrence audiences spent their summer weekends cheering for heroes, jeering at villains and pounding down fried chicken dinners.
But for most of the 1970s through the '90s, Apple Valley Farm Theatre offered that combination to hundreds of patrons each week.
At a barn and restaurant venue near Ozawkie on Lake Perry, married thespians Ric and Jeanne Averill wrote and performed melodramas with titles such as "Gangsters," "Mounties" and "The Horror of Creepy Hollow."
"The best thing about it was the contact with the audience," recalls Jeanne Averill.
"It was a combination of stand-up comedy, musical comedy and vaudeville, which encourages active audience participation. On the opposite end of the spectrum, it was at a barn with no air conditioning in the middle of August. There were nights where we were melting backstage."
Now the Averills are actively attempting to revive that same spirit with a production of "Dangerous Damsels" at the Lawrence Arts Center, 940 N.H. Last performed in 1996, their melodrama features all but one of the original cast members, and it will be presented in nearly the identical style of the fondly remembered Apple Valley shows.
Ric Averill describes "Dangerous Damsels" as the tale of a traveling theatrical company with a cruel boss and three actresses who each play on alternating nights the vamp, the heroine and the granny. Since all of these actresses want out, they each try to kill the boss onstage at the climax of the three mini-plays.
"Although it's got music, it's more just straight-up comedy," Ric says. "There's topical humor and political humor. There's even a joke in there from 1996 about the villain wanting to build the South Lawrence Trafficway, and here we are 13 years later and the joke still works."
Highs and lows
Incentive for renewing "Dangerous Damsels" came about thanks to the general public as much as the Averills' aspirations.
"Even to this day we'll go into a grocery store and hear from people how much they enjoyed Apple Valley and wish we would do it again," Jeanne says.
The Averills first began working at the secluded venue in 1971 when it was run by Dale Easton. In 1972, the couple appeared together there in a show called "The Drunkard" that coincided with their wedding. They took two days off for a honeymoon, then went right back to performing at Apple Valley.
Upon Easton relocating to Topeka, the Averills took over the operation in 1978. They continued running shows every Friday and Saturday night from May to September. They eventually stepped down from the gig in 1997. (The theater would continue without them in various formats for several years.)
"We actually made money out there," Ric says.
But he admits both his interest — and the crowd's — began to wane in the latter days.
"The audiences did begin to be more sensitive to the heat. The World War II generation would sit in that non-air-conditioned barn and drink beer and not care. They'd been to Iwo Jima — it was nothing to fight some mosquitoes. Later on it got to where the younger people wouldn't sit through the really hot nights," he says.
The combination of the drop in attendance and the success of the Averills' other theatrical pursuits eventually led them to fold the operation.
"At one point I looked at my son (Will Averill), who was 22 or 23 then, and I was complaining about the current landlords at the time," Ric says. "He said, 'If you don't like it, why don't you quit?' It was one of those moments where the son is clearly smarter than the father. It was time to move on."
The gathering magic
"Working with the Averills was magic," remembers Jerry Mitchell. "They're just like regular people that you know, but when they get up in front of an audience, they truly turn it on."
Mitchell, who was in his early 20s when he began at Apple Valley, reprises his "Damsels" role as the "hench cowboy" in service to the villain. The actor has since gone on to create one of Lawrence's most recognizable characters: swarthy lothario Victor Continental of the annual "Victor Continental Show."
He says, "This type of theater taught me a lot in how to be Victor: Less is more; you learn how to deal with an audience in the vaudeville style; it's all comedy, and people come to laugh."
The biggest challenge the seven-member cast (plus a pianist and drummer) faces involves trying to simulate that rustic Apple Valley environment in a large, modern facility.
"I'm working in every way possible to figure out how to get the audience involved with what we're doing," Jeanne says. "There's a built-in part of the play where we get the audience members up on stage. We're doing everything we can to re-create that ambience. But the nice thing is it will be air-conditioned."
Copyright 2018 The Lawrence Journal-World. All rights reserved. This material may not be published, broadcast, rewritten or redistributed. We strive to uphold our values for every story published.