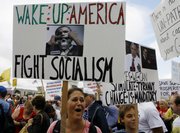 Washington — Tens of thousands of conservative protesters, many complaining that the nation is racing toward socialism, massed outside the U.S. Capitol on Saturday, angrily denouncing President Barack Obama's health care plan and other initiatives as threats to the Constitution.
The crowd — loud, animated and sprawling — gathered at the West Front of the Capitol after a march along Pennsylvania Avenue. Invocations of God and former President Ronald Reagan by an array of speakers drew loud cheers that echoed across the Mall. On a windy, overcast afternoon, hundreds of yellow "Don't Tread on Me" flags flapped in the breeze.
"Hell hath no fury like a taxpayer ignored," declared Andrew Moylan, head of government affairs for the National Taxpayers Union, urging protesters to call their representatives. The demonstrators roared their approval.
"We own the dome!" they chanted, pointing at the Capitol.
The demonstrators are part of a loose-knit movement that is galvanizing anti-Obama sentiment across the country, stoking a populist dimension to the Republican Party, which has struggled to find its voice since the 2008 elections.
With Democrats in control of Congress, battling the president legislatively has been difficult. But after a spring of anti-tax rallies and summer health care protests proved to be effective, a growing number of GOP leaders are dropping their wariness and seeing the political possibilities of latching onto this freewheeling coalition. Others are cautious about embracing views that can be seen as extremist.
No official crowd estimate was available, but Saturday's throng appeared to number in the many tens of thousands. The sound system did not reach far enough for people at the edges of the rally to hear the speakers onstage.
"You will not spend the money of our children and our grandchildren to feed an overstuffed government," Rep. Tom Price, R-Ga., said of the Obama administration, drawing raucous applause.
"Our history is decorated by those who endured the burden of defending freedom," Price said. "Now a new generation of patriots has emerged. You are those patriots."
The group's sponsors included FreedomWorks, a Washington-based group headed by former House Majority Leader Richard Armey, R-Tex., and the groups Tea Party Patriots and ResistNet. They and others involved in the rally comprise a loose coalition of conservative groups that helped organize the health-care and anti-tax demonstrations in the spring and summer.
"Health care is not listed anywhere in the Constitution," said Brian Burnell, 45, who owns an insurance company on Maryland's Eastern Shore. His placard read, "How Is That Hopey Changey Thing Workin' Out For Ya?"
"You want socialism?" said Susan Clark, a District resident marching with a bullhorn. "Go to Russia!"
The White House declined to comment on the demonstration, but Democrats said the rally and other protests in recent months represent a small minority of voters and will not slow Obama's proposals.
Saturday's demonstrators spanned the spectrum of conservative anger at Obama, including opponents of his tax, spending and health-care plans and protesters who question his U.S. citizenship and compare his administration to the Nazi regime.
Most signs were handmade: "Socialism is UnAmerican," "King George Didn't Listen Either!" "Terrorists Won't Destroy America, Congress Will!" and "The American Dream R.I.P." Many protesters carried the now-familiar poster of Obama made up to look like the Joker, captioned "Socialism."
Some came to protest what they see as government interference with gun ownership. Shaun Bryant, 40, a leadership trainer, was among eight people who flew in from Salt Lake City.
They fashioned a sign with a drawing of an AR-15 assault rifle and the words, "We came unarmed from Montana and Utah ... this time!"
Dozens of signs mentioned Rep. Joe Wilson, R-S.C., who heckled Obama during a Wednesday night speech to Congress.
Dee Meredith, 62, of Callao, Va., said she had never heard of Wilson before he shouted at the president, "You lie!" At the rally, Meredith waved a placard: "Thank You Joe Wilson."
"We're the forgotten people," she said, "and he's given us a voice."
Copyright 2018 The Lawrence Journal-World. All rights reserved. This material may not be published, broadcast, rewritten or redistributed. We strive to uphold our values for every story published.