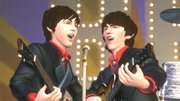 The Beatles' history is intertwined with one pop-culture landmark after another.
The appearance of Paul McCartney, John Lennon, George Harrison and Ringo Starr on "The Ed Sullivan Show" in 1964 proved the power of then-fledgling rock 'n' roll. Their 1965 concert at Shea Stadium ushered in the era of stadium rock. And their quick-cut, effects-filled musical comedy "A Hard Day's Night" inspired a generation of music videos.
Will last Wednesday's release of "The Beatles: Rock Band" provide another landmark — an event that will introduce a huge percentage of baby boomers to the video games they have been buying their children and grandchildren for years?
"If anything could, it's The Beatles," says Becky Ebenkamp, senior editor for Adweek Media. "Interest in them really is multigenerational."
Harmonix and MTV Games, makers of "The Beatles: Rock Band" and the entire Rock Band series, are certainly doing what they can to make it happen.
Two years in the making, the game was created with the input of McCartney, Starr, Yoko Ono and Olivia Harrison, and with Giles Martin, who co-produced The Beatles' "Love" project with his father, longtime Beatles producer George Martin, handling the production of the music tracks for the game.
"The project is a fun idea which broadens the appeal of The Beatles and their music," McCartney said in a statement. "I like people having the opportunity to get to know the music from the inside out."
That idea isn't new, and it's certainly already popular, as the Guitar Hero series from Activision and the Rock Band series have shown for years. And for many teens and young adults, the allure of the game isn't the music, but the gameplay and the first-rate art direction and animations, not to mention the high-end peripherals that include replicas of McCartney's Hofner bass guitar, the Rickenbacker 325 guitar made famous by Lennon, Harrison's Gretsch Duo Jet guitar and a Starr-inspired Ludwig drum set complete with a replica Beatles kick drum head. Those stylish add-ons are a long way from the early plastic guitars with the multicolored buttons, though those will work with the game as well.
But for those who grew up with The Beatles' music, the idea of interacting with "I Want to Hold Your Hand" and "Here Comes the Sun" in a new way will be the prime selling point.
"It will be a way for families to bond over music," Ebenkamp says. "Kids can teach their parents how to play the game, and parents can teach their kids about the music. It will really work both ways."
Broader audience
The video game industry, which has been struggling this year as a result of the economic downturn, hopes "The Beatles: Rock Band" not only changes family dynamics, but purchasing patterns as well.
According to Anita Frazier, industry analyst for NPD Group, the industry is down 14 percent through July compared to the same period last year. The music-related video game segment, which includes everything from Rock Band to Dance Dance Revolution, has been hit the hardest, she says, with revenue down $390 million through July. However, "The Beatles: Rock Band" could help change that.
Frazier says video gamers older than 50 currently represent about 18 percent of spending on games this year, and targeting that age group could bring in new business.
"I think 'The Beatles: Rock Band' appeals to a broader audience than just those over 50," Frazier says. "While that may be the age range of original Beatles fans — or even 60s, right? — the band is a cultural icon, and even my kids, 12 and under, know a lot of Beatles songs. But I do think there is continued effort on the part of the industry as a whole to recruit new audiences to play games in order to fuel industry expansion."
You want a revolution?
The game itself is already fueling expansion of a sort, as unconventional chains, such as Restoration Hardware and Bloomingdale's, are signing on to sell the video game and its accessories, while traditional game-sellers such as Wal-Mart, Target and Best Buy are looking at unconventional ways to showcase the game in their stores. Harmonix and MTV Games have even launched a program called "Rock Band Bar Nights" that helps owners host evenings themed around the video game and released a five-song sampler of "The Beatles: Rock Band" to the bars Monday before it's available in stores.
The marketing push behind the game will continue long beyond this week. Plans already are in place to release the entire "Abbey Road" album on Oct. 20 to be played through "The Beatles: Rock Band," with "Sgt. Pepper's Lonely Hearts Club Band" to follow in November and "Rubber Soul" in December. "All You Need Is Love" will be available for download through the game on Wednesday, with all proceeds going to Doctors Without Borders.
Time will tell how well "The Beatles: Rock Band" will hit its lofty artistic and economic targets among fans. However, for some involved with the game, it is already a success.
"(John Lennon) would have loved it," Yoko Ono told WENN Entertainment News. "'The Beatles: Rock Band' is about to create another revolution."
A DIGITAL MASTERY TOUR DE FORCE
"The Beatles: Rock Band" won't be the only Fab Four technological advance debuting this week.
After a painstaking four-year process, the entire original Beatles catalog has been digitally remastered for the first time and will hit stores Wednesday. It also marks the first time the first four albums — "Please Please Me," "With The Beatles," "A Hard Day's Night" and "Beatles for Sale" — will be available as full albums in stereo on CD.
Each album will feature the original art from its British release, original and new liner notes, and a brief documentary about its recording. The albums also will be collected in a box set, "The Stereo Albums," that includes "Magical Mystery Tour" and "Past Masters, Vol. 1 and 2." A separate box set, "The Beatles in Mono," will collect 10 albums in their original mono mixes and two more discs of other material mastered in mono, as well as the stereo mix of "Rubber Soul," which has not been previously available on CD.
With all these advances, though, the remaining Beatles still haven't reached an agreement about distributing their catalog as online downloads, though they say discussions continue.
Copyright 2018 The Lawrence Journal-World. All rights reserved. This material may not be published, broadcast, rewritten or redistributed. We strive to uphold our values for every story published.