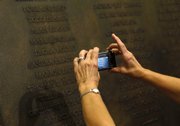 Washington — It was a day of thank yous and thoughts of what could've been, as family members of the passengers and crew of United Flight 93 visited Capitol Hill on Wednesday to honor those who perished aboard that plane eight years ago.
Two days before the anniversary of the 9/11 terrorist attacks, the families were on hand for the unveiling of a large bronze plaque at the Capitol that pays tribute to the individuals who died when their plane crashed in a Pennsylvania field in the midst of the attacks. Their sacrifice "not only saved countless lives, but may have saved the U.S. Capitol from destruction," the plaque says.
Family members, many wearing buttons with their loved ones' names or holding children born after the attacks, listened solemnly as the ill-fated passengers' names were called out.
"I hope that you will visit frequently and that it will be a comfort to you," House Speaker Nancy Pelosi said. Other speakers recalled the fear and chaos that gripped the Capitol on the day of the 2001 attacks.
The ceremony held special meaning for Paula Nacke Jacobs, 46, of Berlin, Md., who said Wednesday would've been the 50th birthday of her brother, passenger Louis "Joey" Nacke.
"I'm glad that this plaque is being dedicated today, and not only for the passengers and crew of Flight 93, but for everybody," Jacobs said. "This really shows the strength of the human heart. At the end of the day, we stand for our country."
Ben Wainio of Catonsville, Md., whose 27-year-old daughter Honor Elizabeth Wainio died on board, said the magnitude of the Sept. 11 attacks made it easier in many ways to grieve.
"So often people just go on with their life, and they forget, and I don't want them to forget Elizabeth or any of the other passengers on that plane," Wainio said. "I want them to be there forever."
Flight 93 was traveling from Newark, N.J., to San Francisco when hijackers took it over with the likely goal of crashing it into the White House or Capitol. The official 9/11 Commission report said the hijackers crashed the plane as passengers tried to wrest control of the cockpit.
The plane crashed near Shanksville in rural southwestern Pennsylvania.
Before Wednesday's ceremony, several family members met with Interior Secretary Ken Salazar, who reiterated his agency's commitment to push forward with plans to build a National Park Service memorial at the crash site, which is slated to open on the 10th anniversary of the attacks. The family also met with the National Park Foundation director, Neil Mulholland.
Copyright 2017 The Associated Press. All rights reserved. This material may not be published, broadcast, rewritten or redistributed. We strive to uphold our values for every story published.