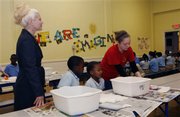 Kansas City, Mo. — Charter schools, already seeing a surge in students, are getting attention from another group — private investors.
Entertainment Properties Inc., known mostly for sinking its money into movie theaters and wineries, recently bought 22 locations from charter school operator Imagine Schools for about $170 million. The real estate investment trust acts as landlord, while Imagine operates the schools and is using the investment to expand its chain of 74 locations.
"They really are an effective source of long-term financing that we can rely on and enables us to do what we're best at, which is running schools, and do what they're best at, which is long-term real estate ownership," said Barry Sharp, chief financial officer for Arlington, Va.-based Imagine. "It's a good fit."
Charter school supporters hope the move by Kansas City-based Entertainment Properties is the first of many such partnerships as they deal with increased interest from parents but not more money to build or expand their facilities.
In the past decade, the number of U.S. charter schools has tripled to 4,618, while the number of students enrolled has almost quadrupled to more than 1.4 million, according to the National Alliance for Public Charter Schools.
While charter schools are publicly funded, they often don't have the same access to bonds and other financing available to mainstream public schools. That forces many to operate in places like storefronts or church basements, said Todd Ziebarth, vice president of policy for the alliance.
"I think it's probably the biggest challenge facing charters, not only finding space but once you find it how do you pay for it, particularly if you're going to buy it," Ziebarth said. "I think it's limiting their growth and it's limiting the expansion of existing schools."
Charter school supporters say the need for construction funding is high, and the entry of a for-profit player like Entertainment Properties signals that they've gone from being an educational curiosity to being seen as a future significant part of the educational landscape.
David Brain, chief executive of Entertainment Properties, said he initially was skeptical of investing in charter schools. But he said he looked deeper and determined that most of the charter school operations that had failed either never opened or were independent operations with little experience.
Focusing on large players who know how to operate schools, hire teachers and develop a curriculum, he said, provides the company a more dependable return.
"We're not speculators, we're investors, so I have to invest in property making money for me and my customers today," said Brain, whose trust oversees a $2.6 billion portfolio. "The charter public schools offer lenders/leaseholders a dependable revenue stream backed by a government payer. It's a very desirable equation."
Copyright 2018 The Associated Press. All rights reserved. This material may not be published, broadcast, rewritten or redistributed. We strive to uphold our values for every story published.