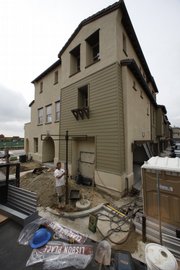 Washington — The number of buyers for new homes dipped unexpectedly last month as the effects of a temporary tax credit for first-time owners started to wear off.
The 3.6 percent drop in September's new home sales, reported by the Commerce Department on Wednesday, was the first decline since March and a sign of weakness in a market that had rebounded strongly over the summer.
The report surprised Wall Street. Stocks fell Wednesday with the Dow Jones industrial average off 119.48 to 9,762.69. Shares of homebuilders also tumbled. Hovnanian Enterprises Inc. led the way, falling 41 cents, to $3.89.
On the positive side, orders to U.S. factories for big-ticket manufactured goods rose 1 percent in September as demand for machinery offset weakness in commercial aircraft and autos.
Analysts expect that the overall economy, as measured by gross domestic production, grew at an annual rate of 3.3 percent in the July-September quarter after contracting for a record four straight quarters. The third-quarter GDP report is due today.
The drop in new home sales could help the lobbying campaign of real estate agents and homebuilders. They want Congress to extend the tax credit of up to $8,000 for first-time buyers.
"Seeing a number like this today, I think a lot of lawmakers will be pounding their fists on the table," said Jennifer Lee, an economist with BMO Capital Markets.
Even builders of more upscale homes out of reach for many first-time buyers have felt the impact of the deadline. High-end builders market to move-up buyers who need to sell before they can buy a new house. Bob Mitchell, chief executive of Rockville, Md.-based builder Mitchell & Best, has gone from selling 80 to 100 homes annually to around 30 this year. Still, he noted, "we're at least selling something."
Critics, however, say buyers would have made their purchases anyway and call the credit an unnecessary subsidy.
New home sales fell to a seasonally adjusted annual rate of 402,000 from a downwardly revised 417,000 in August. Economists surveyed by Thomson Reuters had expected a pace of 440,000.
New home sales, however, are still up 22 percent from the bottom in January, and analysts don't expect them to recede too far. "We're starting to climb out of a very deep, dark cave," said Adam York, an economist with Wells Fargo Securities. "It's going to be a long process."
Copyright 2018 The Associated Press. All rights reserved. This material may not be published, broadcast, rewritten or redistributed. We strive to uphold our values for every story published.