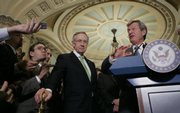 Washington — Democratic moderates who control the balance of power on health care legislation balked Tuesday at a government-run insurance option for millions of Americans, underscoring the enormity of the challenge confronting Senate Majority Leader Harry Reid one day after he unveiled the plan as a consensus product.
Republican opposition stiffened, and party leaders announced they would attempt to strangle the bill before formal debate begins.
Despite the obvious obstacles, senior Democrats cast Reid's draft legislation as a turning point in the yearlong campaign to enact President Barack Obama's top domestic priority. Sen. Max Baucus, D-Mont., chairman of the Senate Finance Committee, said there is now a "sense of inevitability, the sense that, yes, we're going to pass health care reform, and it's going to lower costs, provide better health insurance coverage and cover ... and reform the health insurance market."
The proposed government insurance option long ago emerged as the biggest flashpoint in both the House and Senate as Democrats struggle to pass legislation that extends coverage to millions who lack it, bans insurance industry practices such as denying coverage on the basis of pre-existing medical conditions and slows the growth of health care spending nationally.
But before that issue can be joined on the Senate floor, Reid's first challenge is to gain 60 votes — the number needed to overcome a filibuster by Republicans — just to bring the bill up, a parliamentary maneuver so routine that a vote is rarely required.
Sen. Mitch McConnell of Kentucky, the Republican leader, announced that in this case, members of his party will treat it as though it were "a vote on the merits" of a bill he said would "cut Medicare, raise taxes and increase health insurance premiums." He suggested Democrats could expect campaign commercials next year on the basis of the vote, and recalled that Sen. John Kerry, D-Mass., was ridiculed in his 2004 presidential campaign for having once said he voted for a bill before he voted against it.
Tuesday's developments illustrated the difficulties facing the 69-year-old Reid, juggling at least three separate concerns: his role as head of the Democratic caucus, the desire to deliver on Obama's agenda and a 2010 re-election campaign in Nevada, where his approval ratings are low.
"This isn't over until I'm standing with President Obama and he's signing a bill into law that delivers what Nevadans are demanding — real health insurance reform," Reid wrote in an e-mail message to political supporters in his home state Monday night.
The decision to include a government insurance option in his legislation had obvious appeal for liberals who account for a strong majority inside the Senate Democratic caucus, and it is likely to please labor unions and party activists in Nevada.
But it has gained less-than-effusive support from Obama, who is eager to have at least a dollop of bipartisanship for his signature domestic issue. Sen. Olympia Snowe of Maine, the only Republican who has sided with Democrats in committee this year, has announced she will not support the bill Reid drafted.
Copyright 2018 The Associated Press. All rights reserved. This material may not be published, broadcast, rewritten or redistributed. We strive to uphold our values for every story published.