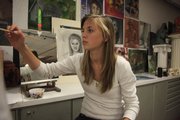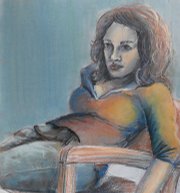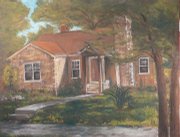 ART STAR
The ArtStar award, sponsored by Jayhawk Dental and The World Company, is given monthly to a senior at a high school in Lawrence who excels in the fine arts.
Nine winners will be selected throughout the school year, with an overall winner selected at the end of the year. That overall winner also will receive a scholarship.
Nominations must be made by art teachers. To nominate a student, call Terry Rombeck, Journal-World features and special sections editor, at 832-7145 or e-mail him at trombeck@ljworld.com.
Ally Koppes has loved drawing for years, but she wasn't ready to spend all day, every day doing it.
That was the Lawrence High School senior's experience this summer as she traveled to Colorado Springs, Colo., for the two-week Marie Walsh Sharpe Summer Seminar program. She received a scholarship to study with art instructors and hone her craft.
"It was hard at first to get into spending six hours a day drawing," she admits. "But it was a lot of fun."
Koppes is the ArtStar for October. The award is sponsored by Jayhawk Dental and The World Company.
Wendy Vertacnik, Koppes' art teacher at LHS, says the young artist came back from Colorado with a new confidence.
"That's a nice thing about her: She's not real boastful, but she's amazing," Vertacnik says. "And I think she came back with a lot more confidence and really looking forward to going to an art school."
Koppes found her love for drawing in junior high. She has worked mainly in pastels in the past, but she's starting to expand to painting now.
"I try a lot of different stuff, but I ... like texture, lots of lines, that sort of thing," she says in describing her style.
Her favorite piece to date is a pastel drawing she completed last year of a stone house near her school. It won first place in pastels in the "Kansans ... As Talented As You Think" competition organized by the Native Sons and Daughters of Kansas.
"I spent a lot of time on the house," she says. "I really like the stone on it, and I wanted to try to draw that. It's hard to experiment until you find the right way to get it to look like what you want it to look like."
That was the first piece Koppes did that caught Vertacnik's attention.
"She had completely turned it into all the shadow, the light areas, the color was really outstanding," Vertacnik says. "And so you kind of take notice when a student does that, and she continued to really be able to nail drawings."
Koppes is spending this year honing her art skills while also delving into a new realm: drafting. She's hoping to combine her art skills with architecture to someday do interior design.
"I definitely want to bring both of those things together in a career someday," she says.
Koppes is considering architecture or art programs at Kansas University or Kansas State University. Art schools might also be a possibility.
Vertacnik thinks Koppes would be perfectly suited to adapt her art skills to the world of building design.
"I think that would be great," she says. "To me, that would be really exciting for her. I could see her really excelling at that."
Copyright 2018 The Lawrence Journal-World. All rights reserved. This material may not be published, broadcast, rewritten or redistributed. We strive to uphold our values for every story published.