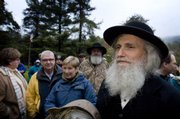 Dargan, Md. — Just as cold, damp weather couldn't quench John Brown's incendiary fervor, it didn't discourage those determined to follow the radical abolitionist's footsteps Friday, 150 years after he launched the raid that kindled the Civil War.
Nearly 300 history lovers, some in period attire, stepped off at 8 p.m. from the grounds of a well-preserved log farmhouse in western Maryland to walk nearly five miles along dark rural roads and across a Potomac River bridge to Harpers Ferry National Historical Park in West Virginia.
The event led by park chief historian Dennis Frye kicked off the Civil War sesquicentennial. Historians cite the failed attempt by Brown and 18 fervent followers to seize weapons from the federal arsenal at Harpers Ferry as the opening salvo in the War Between the States because it incited strong passions, especially in the South.
The war was fought from 1861 to 1865.
Friday's occasional rain and temperatures in the low 40s delighted Frye, because the conditions mirrored those Brown and his raiders faced when they set out from the Kennedy farmhouse near Dargan that Sunday night in 1859.
"It adds a sense of reality and also a sense of misery to the event — and a sense of foreboding of the unknown," Frye said.
Frye, dressed in 19th century-style woolens and carrying a lantern, planned the procession as a "reverent and soulful experience."
"These men are about to go to war," he said. "Most of them will end up dead or captured in less than 48 hours."
The marchers, from across the country and as far away as England, included at least four John Browns, bearded and dressed in black. Not surprisingly, virtually all the participants considered Brown a heroic martyr rather than a deranged terrorist.
"To say he is a homicidal maniac misses the point," said Kerry Altenbernd, 57, a law librarian from Lawrence, Kan. "He is someone who could not live with 4 million people in bondage and had to do something about it."
Janise Mitchell, 50, a middle-school social studies teacher from Brooklyn, N.Y., called Brown a genius who championed equal opportunity not just for blacks like her but for all Americans.
"What may be a terrorist for one group becomes a hero for someone else," she said.
On the night of the raid, three of Brown's 21 disciples stayed behind to stand guard. The rest quietly seized the arsenal by midnight. But the situation turned into a standoff when local militia and townsfolk sealed escape routes, killed some of the raiders and surrounded the armory. Marines dispatched from Washington finally broke in and captured the wounded Brown, who was hanged for treason six weeks later.
The Harpers Ferry raid wasn't Brown's first campaign. Three years earlier in Kansas he participated in several notorious incidents.
In May 1856, just days after the sack of Lawrence by pro-slavery forces led by Sheriff Samuel Jones, Brown and a band of abolitionist settlers killed five pro-slavery settlers north of Pottawatomie Creek in Franklin County.
The Battle of Black Jack took place on June 2, 1856, when anti-slavery forces led by Brown attacked the encampment of Henry C. Pate near Baldwin City. Though no men died and only about 100 fought, some consider the Battle of Black Jack to be the first true battle of the Civil War. The skirmish, which lasted three hours, was the first time organized military forces for and against slavery fought.
Brown also was engaged in the Battle of Osawatomie on Aug. 30, 1856, along the banks of the Marais des Cygnes River. His son Frederick died in that battle.
Brown left Kansas in 1857, heading east on a fund-raising tour for his anti-slavery crusade.
Copyright 2018 The Associated Press. All rights reserved. This material may not be published, broadcast, rewritten or redistributed. We strive to uphold our values for every story published.