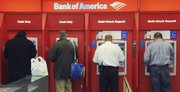 Charlotte, N.C. — Bank of America Corp. said Friday it lost more than $2.2 billion in the third quarter as loan losses kept rising, providing more evidence that consumers are still struggling to pay their bills.
The nation's second-largest bank said it wrote down loans on its books by almost $10 billion during the July-September period, up almost $1 billion from the second quarter. The bank also added $2.1 billion to its reserves to cover bad loans, bringing its provision for credit losses to $11.7 billion. The bank's total allowance for loan and lease losses now totals $35.83 billion.
Bank of America's results were aided by profit from its wealth management business, which includes the bank's Merrill Lynch division. While theJan. 1 acquisition of Merrill Lynch has brought widespread criticism and legal problems for Bank of America, the deal was paying off during the third quarter, when Merrill Lynch's revenue and profit more than doubled from a year ago.
The bank's earnings follow the pattern set earlier this week by Citigroup Inc. and JPMorgan Chase & Co., which also reported more loan losses during the third quarter as consumers struggled to keep up with their credit card and mortgage payments. And on Friday, General Electric Co. reported that its GE Capital business, which includes credit cards, saw an 87 percent drop in profits, although it was also weighed down by commercial real estate losses.
Together, the reports depict a financial industry that is still deeply troubled, although the trading operations at companies like Bank of America, JPMorgan and Goldman Sachs Group Inc. mitigated some of the bad news.
Banks have predicted for some time that their loan losses would keep rising. And Bank of America's CEO Ken Lewis, joining his counterparts at JPMorgan and Chase, confirmed that this trend will continue into the near future as unemployment rises and consumers keep struggling.
"Obviously, credit costs remain high, and that is our major financial challenge going forward," Lewis said in a statement accompanying the earnings report. He added, "We are heartened by early positive signs, such as the leveling of delinquencies among our credit card numbers."
During the analyst call, Lewis said the bank believes it may have peaked in total credit losses this quarter, "although the levels going forward will continue to be elevated and certain businesses will still experience higher losses."
Bank of America, with its massive portfolio of credit-card loans, is considered particularly vulnerable to unemployment, which climbed last month to 9.8 percent in the U.S. Economists predict the jobless rate will pass 10 percent in the coming months.
The bank, which is being investigated by federal and state authorities for its Merrill Lynch acquisition, has received $45 billion in bailout funds as part of the Treasury Departments $700 billion financial rescue package. It's not known when it will repay the government the money from the Troubled Asset Relief Program, or TARP.
"It's a milestone for banks to repay TARP and the ability to repay TARP is a sign of your financial health," said Ethan M. Heisler, Managing Director of Hexagon Securities LLC.
The Securities and Exchange Commission and the New York attorney general's office have been looking into whether Bank of America officials misled shareholders about Merrill Lynch's losses and the billions of dollars in bonuses it awarded before the acquisition closed on Jan. 1.
Copyright 2018 The Associated Press. All rights reserved. This material may not be published, broadcast, rewritten or redistributed. We strive to uphold our values for every story published.