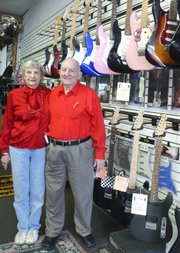 Pittsburg — This is a big year for Marion and Bernice Kutz. They've been married for 60 years, and owned their own business, Kutz Music, for 50 years.
Before leaving for a three-day diamond anniversary celebration with family and friends in Branson, Mo., the couple locked the doors of their music store for an interview.
Within a few minutes, two customers were at the door looking in, and Mrs. Kutz let them in.
Bernice Dutton and Marion Kutz were married Oct. 2, 1949, at the Central Avenue Christian Church in Parsons.
They opened Kutz Music in 1959 in Parsons.
"We've been married for 60 years and in the music business for 50 years, so people ask me what I did those other 10 years," Kutz said. "I was in banking. At first it was regular banking, then it became a mortgage bank."
But the strain of the banking business started causing him health problems. Finally, the couple decided to take a chance and open their own business.
"My health cleared up the first month," Kutz said.
Music was a natural thing for him to do.
"He started by playing accordion, then went to trombone in high school, and learned guitar," Mrs. Kutz said.
"I'm a Lawrence Welk kind of person," Kutz said. "I learned a little about all of the instruments, but I'm not real fancy, and that works for the business. If I played real fancy, then when the customer tried to play the instrument, it wouldn't sound the same as when I played. This way, I can help the customer."
At one time Kutz Music had three stores in operation, one in Parsons, one in Independence and one in Pittsburg.
"For over 40 years the main part of our business was grand pianos and church organs," Kutz said.
A large trade center in Joplin, Mo., was rented for one weekend each year, and semi-truckloads of grand pianos were brought from the factory to the center for a weekend sale.
"Our children and their spouses often took their vacations during this event to help conduct the sale, along with company representatives and other grand piano merchants," Kutz said.
Since the 1980s the couple have had only the Pittsburg store. They started in a building at the southeast corner of Sixth and Broadway, then later moved to their current location on the northwest corner, in a building their son, John Kutz, had purchased in 1994.
"There's a lot of history to this building," Kutz said. "It's been a hospital, the Leland Hotel, a shoe store and U.S. Army recruiters. When we bought it, it was a bar."
In 2000, John Kutz, his wife Kayla, and his parents were honored by the Stilwell Heritage and Educational Foundation for their restoration work on the building at 601 N. Broadway.
Around 10 years ago the business was changed from pianos and organs to guitars, drums, accessories and music. The purpose of this was to allow the business to function in retirement mode.
"Guitar strings are what brings people in to us, because guitar strings wear out," Kutz said. "It's drumsticks for drummers."
Kutz said that it was his goal to be in business for 50 years.
"People are asking me what I'm going to do now, and I tell them I'll go for another 50," he said. "But I know that's not practical. We're just going to enjoy the anniversaries this year, and then see what happens."
Copyright 2018 The Lawrence Journal-World. All rights reserved. This material may not be published, broadcast, rewritten or redistributed. We strive to uphold our values for every story published.