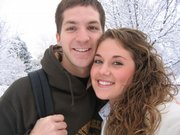 Salt Lake City — A medical student who died Thursday after a daylong effort to rescue him 150 feet underground was an outdoors lover and experienced caver who was expecting the birth of his second child next year, officials and family members said.
John Jones, 26, of Stansbury Park, died nearly 28 hours after he got stuck upside-down in Nutty Putty Cave, a popular spelunking site south of Salt Lake City. It was the first known fatality since cavers began exploring the 1,500-foot cave's narrow passageways in the 1960s, cave access manager Michael Leavitt said.
On Wednesday, rescue teams used drilling equipment, rope and a pulley system to try to free Jones, to no avail. On Thursday, rescuers suspended efforts to recover his body as they considered the options to do so, Utah County sheriff's office Sgt. Spencer Cannon said.
The 6-foot-tall, 190-pound Jones got stuck with his head at an angle below his feet about 9 p.m. Tuesday in an L-shaped area of the cave known as "Bob's Push." The area is only about 18 inches wide and 10 inches high.
Exploring Nutty Putty, which is privately owned by Utah's State Institutional Trust Land Administration, requires reservations, an access pass and, for safety reasons, either caving experience or an experienced guide. The Jones group of 11 explorers, including some of his four brothers, met all three of those criteria, Leavitt said.
"They've never been to Nutty Putty before, but they toured many harder caves in the Logan area that required vertical climbing skills," said Leavitt, one of dozens of cavers who volunteered with the rescue effort. "They were qualified, John was qualified. I'm sure he went into this passage hoping it was going to open up into one of the larger rooms."
Nutty Putty is now closed until a decision can be made about its future, Leavitt said.
As described by his family, Jones was an outdoor lover with a strong sense of adventure.
He had explored many caves and had maneuvered through other tight spaces before, the family said in a statement issued late Thursday.
For the past two years, the St. George native was attending medical school at the University of Virginia, hoping to pursue a career as pediatric cardiologist. Jones, his wife, Emily, and their 13-month-old daughter had come home to Utah for the Thanksgiving holiday and to share the news that another baby is expected in June.
Family said they knew Jones fought to survive throughout the rescue effort and was commended by rescue crews for "his remarkable good spirits and resilience to the end."
Copyright 2018 The Associated Press. All rights reserved. This material may not be published, broadcast, rewritten or redistributed. We strive to uphold our values for every story published.