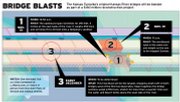 Photo Gallery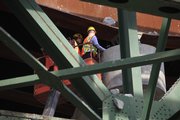 Kansas Turnpike bridge explosion
The Kansas Turnpike Authority's ongoing $130 million reconstruction project takes an explosive turn this week, with scheduled demolition of two portions of original bridges that cross the Kansas River.
The first blast is set for 12:30 p.m. today, and people can watch video of the blast live at LJWorld.com.
Special directional charges will be used to cut through enough portions of the bridges' steel structures to drop desired sections of beams onto a temporary sandbar below.
"The air moves, the ground shakes and the structure falls down," said Steve Hartman, a prep worker for Chicago Explosive Services, working last week to get the section ready for demolition. "The (preparation) work gets old, but the blowing-it-up part doesn't."
Spectators will be kept out of the blast area, which stretches 1,000 feet in all directions from the site. Minutes before the detonation, ramps at the turnpike's two nearest interchanges — exits 202 and 204 — will be closed to any traffic that would be crossing the bridge.
Vehicles already on the turnpike will be kept out of the area and slowed in both directions by "rolling roadblocks" led by the Kansas Highway Patrol.
Anyone looking to watch the blast in person should consider heading to Burcham Park, which is along the river and can be entered from Second and Indiana streets. There's also a half-mile natural trail from Constant Park, northeast of Sixth and Tennessee streets, that leads to Burcham.
"Stay out of the blast zone," said Rex Fleming, the turnpike's project engineer. "It's for everyone's safety."
An arrival of wet weather could delay today's blast, Fleming said, but only long enough for driving lanes to dry out. In case of a delay, the blast schedule would resume once turnpike lanes were deemed safe enough to handle slowing traffic.
Copyright 2018 The Lawrence Journal-World. All rights reserved. This material may not be published, broadcast, rewritten or redistributed. We strive to uphold our values for every story published.