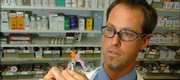 An outbreak of H1N1 Swine Flu was reported in Mexico in April 2009. By the end of May, it had spread across the U.S., with all 50 states reporting cases.
Washington — Swine flu has sickened about 22 million Americans since April and killed nearly 4,000, including 540 children, according to startling federal estimates released Thursday.
The figures — roughly a quadrupling of previous death estimates — don't mean swine flu suddenly has worsened, and most cases still don't require a doctor's care. Instead, the numbers are a long-awaited better attempt to quantify the new flu's true toll.
"I am expecting all of these numbers, unfortunately, to continue to rise," said Dr. Anne Schuchat of the Centers for Disease Control and Prevention. "We have a long flu season ahead of us."
And tight supplies of vaccine to combat the illness continue: Not quite 42 million doses are currently available, a few million less than CDC had predicted last week.
A new Associated Press-GfK poll shows nearly one in six parents has gotten at least some of their children vaccinated against swine flu since inoculations began last month. Another 14 percent of parents sought vaccine, but couldn't find any.
Only about 30 percent of children routinely get flu vaccinations during a normal winter. That even this many have gotten vaccinated against the new flu that scientists call the 2009 H1N1 strain despite the shortage suggests CDC's target-the-young message has gotten through.
But three times as many adults have tried and failed to find vaccine for themselves as have succeeded.
"I know they're trying their hardest," Joy McGavin of Pittston, Pa., said of the CDC's vaccine efforts. She hasn't yet found vaccine for her three children despite a persistent hunt — even though she and her youngest child are at extra risk because of chronic illnesses.
Interest among the young adults who also are at high risk is waning fast, found the AP-GfK poll of 1,006 adults nationwide.
Copyright 2018 The Associated Press. All rights reserved. This material may not be published, broadcast, rewritten or redistributed. We strive to uphold our values for every story published.