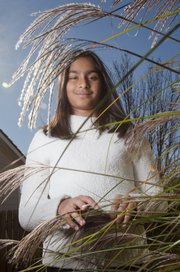 Agamani Sen always knew her daughter, Prerona Kundu, had a natural knack with a camera.
"Even when she was 5 or 6, even with point-and-shoot, I think she always had an idea about (finding) the angle," says Sen of her daughter, a sixth- grader at Quail Run School. "I have the cutest picture of my cat, and I always thought, I should send it somewhere."
It wasn't the photo of the cat but a photo of three frogs relaxing on lilypads at the National Arboretum in Washington, D.C., that was finally sent somewhere, and Prerona, 11, hit the jackpot. She's one of two grand-prize winners from the United States of the See the Bigger Picture photo contest sponsored by National Geographic. The contest was open to photographers ages 6-14 from around the world.
For her prize, Prerona gets a trip to Washington, D.C., where she'll attend a gala award ceremony, visit the National Geographic headquarters and get a chance to learn from famous National Geographic photographer Joel Sartore.
Prerona's love of taking photos was apparent from the time she could properly hold a camera.
"I started when I was like 3," says Prerona, who also enjoys studying math, playing the piano and hitting the tennis court. "I take photos of everything."
Her mother jokes her pocketbook is lucky her daughter's love of photography came during the dawn of the digital photography era.
"I have loads of pictures. With film, it would have been very expensive," Sen says, laughing.
Right now, Prerona takes the majority of her photos when she visits her photography-loving father in Washington, D.C.
There, Prerona takes trips to parks, museums and places like the National Arboretum to find just the right shot, which she gets by borrowing his camera. She has a basic point-and-shoot at home in Lawrence. But with her win, that could be changing.
"I should get her a good camera," Sen says.
Copyright 2018 The Lawrence Journal-World. All rights reserved. This material may not be published, broadcast, rewritten or redistributed. We strive to uphold our values for every story published.