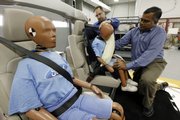 Ford is introducing an inflatable seat belt for back-seat passengers that it hopes will reduce injuries in front and side crashes.
The device initially will be available only as an option on the next-generation Ford Explorer sport utility vehicle, which goes into production in 2010. But safety experts say it has the potential to become widespread in the auto industry as car companies look for a marketing edge.
"The advancements in crash protection have focused a lot on front-seat occupants, and this is a way to better protect rear-seat occupants as well," said Russ Rader, a spokesman for the Insurance Institute for Highway Safety, an insurer-funded group that advocates higher auto-safety standards.
"Safety is now a huge part of the competitive marketplace, and automakers are using safety as a way to sell their vehicles and as a way to show that they are ahead of their competitors."
According to Ford, the inflatable seat belts are more effective than conventional safety restraints at holding a rear passenger in place during a front or side collision.
Much like a front-seat air bag, safety sensors measure the severity of a crash and quickly inflate the seat belts if needed. Each belt's tubular air bag inflates with cold compressed gas, which flows through a specially designed buckle from a cylinder housed below the seat.
Ford said that 90 percent of the research participants thought the new devices were more comfortable than traditional seat belts. The increased comfort level could help narrow the discrepancy between front- and rear-seat belt use. Only 61 percent of rear-seat passengers routinely buckle up, compared with 82 percent of front-seat occupants, according to federal safety data.
The variation is explained partly by the perception that riding in the back seat is less dangerous. In addition, although every state except New Hampshire requires front-seat occupants to wear safety belts, only 22 states have laws requiring all back-seat passengers to buckle up, according to Rader.
Ford said the new system provides a measure of air-bag-like protection for young children who have to sit in the back seat to avoid the danger that traditional front-seat air bags pose to small passengers.
Ford, which lays claim to being the first automaker to introduce seat belts back in 1955, didn't release pricing information on the new rear-seat restraint system, but said it would be "very affordable."
Although the number of traffic deaths each year in the United States remains high —37,261 in 2008 compared with 44,525 in 1975 — widespread adoption of safety improvements such as seat belts and air bags has dramatically cut the overall death rate, Rader said.
In 2007, the rate of traffic deaths per 1 million miles traveled was 1.38, less than half the 1975 rate of 3.35 deaths per million miles.
"It's because the cars are safer," Rader said. "Even at a time when we're seeing higher speeds and more driver distractions, the death rate continues to go down."
Copyright 2018 The Lawrence Journal-World. All rights reserved. This material may not be published, broadcast, rewritten or redistributed. We strive to uphold our values for every story published.