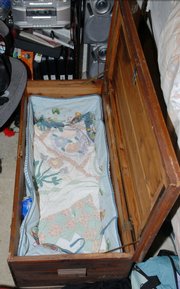 Chipley, Fla. — Investigators spent five days searching dense vines and marshes for a missing infant, only to find her lying quietly in a 2-foot by 3-foot cedar box that had been shoved under her baby sitter's bed.
Clothing was packed around it to muffle any sounds and baking powder placed inside to mask the stench of dirty diapers.
Authorities said the baby's mother, Chrystina Lynn Mercer, gave the infant to baby sitter Susan Elizabeth Baker early Saturday, then reported her missing about 10 hours later.
Washington County Sheriff Bobby Haddock choked up Thursday as he described how 7-month-old Shannon Dedrick was stashed in the box for 12 straight hours before investigators discovered her late Wednesday. They believe she had been in the box on and off for several days.
"She was way back under the bed," he said. "But she was not crying."
Baker had written a letter to Gov. Charlie Crist's office in August, pleading for help for the baby and claiming her father shook her and both parents did drugs in front of her. She asked Mercer a week ago if she could have permanent custody, Haddock said. Officials do not believe Shannon's father, who is Baker's stepbrother, was involved in the disappearance.
Haddock said Shannon apparently had been fed and cared for while she was with Baker, who lived about 12 miles from Mercer. He said Baker became a suspect several days ago but never told them where the baby was, even as they interviewed her for 12 hours.
Shannon appeared healthy, much to the relief of investigators who spent days looking for her.
"Once we got the hospital, five or six of us called our wives to let them know that we found the child and a lot grown men were shedding tears," Haddock said.
Mercer's mother, Candis Boyer, attended Thursday's news conference and said afterward that she was there to show support for her daughter and granddaughter.
"I love my daughter very deeply," she said.
Mercer was charged with interference of child custody, desertion of a child and several other charges. Charges against Baker included neglect of a child with aggravated circumstances and interference of child custody.
Bond was set at $150,000 for Baker and $75,000 for Mercer. In separate hearings, the women shuffled in wearing leg chains and their hands bound with plastic restraints.
The judge told Mercer she couldn't have contact with her daughter, who was in state custody, if she posts bond. Both women said they understood the charges against them and their arraignments were scheduled for Dec. 14.
Shannon's parents told investigators they last saw her when they went to bed around 3 a.m. Saturday and investigators thought she had vanished sometime between then and 8 a.m.
According to court documents, child welfare officials began looking into allegations Shannon was being abused less than two weeks after she was born.
Investigators frequently went to the infant's home from August to late September and reported that both parents used marijuana and kept a messy home. But they said Shannon seemed to be cared for.
Copyright 2018 The Associated Press. All rights reserved. This material may not be published, broadcast, rewritten or redistributed. We strive to uphold our values for every story published.